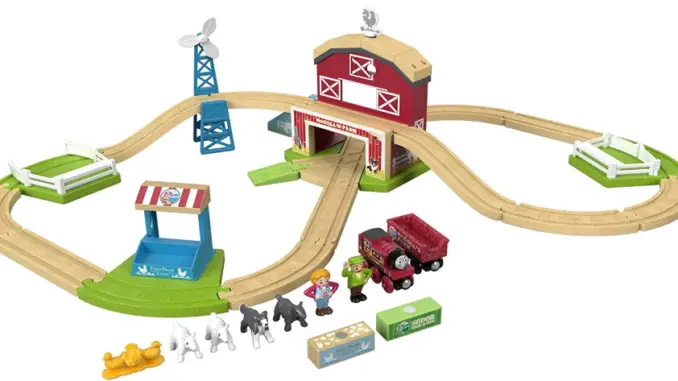 It's a known fact that toys take quite a battering from their young owners, getting thrown around and left out in the weather.
Plastic toys can be brittle most times, but wood, on the other hand, can endure rough treatment and last for generations.
A farm toy set gives your child hours of imaginative and role-play adventures to help them connect fully with nature. It will help your child develop animal love, which will teach them more about love and tolerance in general. If the toy set is made of wood, it gives a more natural feeling and experience.
When shopping for the best wooden farm sets for toddlers, watch out for the sturdiness and durability of the wooden material used. Also, take the colors used into consideration, as bright and attractive farm toys will keep the attention of your baby longer than other toys.
Best Wooden Farm Sets for Toddlers: Top 7 Picks
Shopping for the most suitable wooden farm toys available in the market may be a tedious job for parents. Listed below are the top 7 picks, which are most likely the best out there.
1. Kidkraft Wooden Rural Farm Train Set
This 75-piece children's toy vehicle playset is simply amazing. It is the perfect combination of a farm setting and a series of train tracks.  The farm and train set let kids explore what it's like to attend to animals, collect eggs and raise crops with 75 perfectly colored rural-themed pieces.
The train meanders along the waterfall, over the bridge, and around the barn. Passengers catch a glimpse of the duckpond, complete with a yellow duck and rowboat. A stable with bales of hay houses both the horse and cow and the windmill spins beautifully in the breeze. This set is so thoughtfully designed that it leaves your kid immersed in an imaginative fun world.
What I like most about the Kidkraft Wooden Rural Train Set is that the tracks are interchangeable and you could rearrange the set any way you want, which in itself is more adventure for the kid.
The animals, farm, pond, boats, and people are all nicely made, and a good size for small hands. The train is cute as well;  I like that most of the parts are completely made out of solid wooden materials.
Every piece in this farm train set is designed to spark imagination and encourage fun. Colorfully illustrated with brilliant details, kids can create all sorts of wonderful stories. I also think the wood is solid enough to withstand rough play from children.
Pros
The wooden pieces are well detailed
The set is packaged with detailed step-by-step instructions
Tracks are interchangeable, so the set could be arranged in different variations
Cons
Unfortunately, several of the track pieces don't fit together properly
Related: List of Best Farm Animal Toys for Toddlers
2. Melissa & Doug Farm Friends Play Set
The Melissa and Doug Farm Friends Play Set collection of 10 felt-covered miniature models include barnyard animals of all sizes, ranging from approximately 0.75 inches to 3 inches tall. Animals in this set include a horse, chicken, pig, duck, cow, donkey, goat, rooster, sheep, and border collie. All the animals store in individual compartments in the wooden barn.
Another magnificent feature is that fun facts about each animal are included in this set. Also, each section in the wooden barn is designed to be a replica of the real-life habitat of each of the animals. This would greatly help any kid, in learning to recognize the natural habitats of different animals at a very early age.
The animals are just the right size for the little hands of kids and detailed enough to fascinate them.
The quality of the animals isn't really top-notch but they are quite sturdy, lightweight, and cute. The realism of these little farm animals is also worthy of mention. The animals look very much like what they are meant to represent in reality.
I like that the animals have a fuzzy kind of feel as they are covered in felt. However, I do wish the wooden case it came with had a top or plastic cover, to keep the animals contained when not in use.
Any moisture will likely cause the animal skin/outer coverings to peel off. So, make sure that they don't get chewed on.
Pros
Includes fun facts about each animal
All the animals stand independently
The animals are stored in the divided sturdy wooden storage tray, which adds to its beauty
Cons
The felt coverings on the animals make them not quite durable as they peel off easily.   Avoid moisture, and this would definitely not be a problem
3. Terra by Battat – Wooden Animal Barn
If you have a full farm's worth of little animals and nowhere for them to call home, then this is the barn you have been dreaming of.
This 20 piece toy wooden animal barn playset comes completely unassembled in a well-padded box that consists of 1 toy wood barn, 10 fences, 1 ladder, 2 food troughs, 4 balls of hay, 1 pulley tray, and 1 removable loft.
Although all the different parts fit with great precision, the barn is however quite difficult to put together. This is because the assembling instructions are only pictures, which leaves the greater part of the work to your own understanding. Notwithstanding, there are a series of videos and guides online on how to properly assemble this toy set in case you run into any difficulties.
Asides from the difficulty in assembling, I think this is arguably one of the best barn sets you can get out there. The construction looks very solid and highly durable. Your kids can play with it non-stop and it will still maintain its rugged stability and bright colors. It's definitely a piece that will grow with kids and last years.
One great feature of the Terra by Battat Wooden Animal Barn is that you're able to lift the roof, get an overhead view of the properly detailed barn interior and be able to utilize the inside of the barn unhindered.
The interior stall fences just pop into place and most of them have a section that swivels, so you can swing various gates open or close to make all kinds of stall variations. The detail of the hay bails and water troughs that are included is excellent as well.
Overall, this barn set is of great quality, realistic, sturdy and absolutely beautiful for any kid to look upon. I'm quite certain that every kid would love opening and closing the various windows and doors, which is a perfect size for their small hands.
Pros
Half the roof opens, so you can easily access all of the interior space
It has enough room to fit in a few numbers of farm animals
It is a perfect educational toy as it encourages compassion for animals
Perfect size for any toddler
Cons
The doors/windows do not completely latch onto the barn, so they often come off during play
Related: Top 10 Jungle Animal Toys for Toddlers
4. Thomas &  Friends Fisher-Price Wood, Family Farm Set Toy
This wood toy train set comes with over 30 pieces including full track layout, Rosie train, cargo car, 6 figures (2 farmers and 4 animals), two-sided barn, windmill, farm stand, 2 cargo pieces, and chicken play piece.
Once everything is assembled, the set is fairly large at about 3 feet in diameter.
The roundhouse is made from a combination of plastic and wood. The wood sections are the walls, floors, rotating platform and support columns. There isn't any much assembling to be done out of the box. You just have to slide two railings and an operator's booth onto the rotating platform. Everything is nicely detailed and colorful with a very robust feeling.
The track has an upper level that runs through the train station and the train runs smoothly over the tracks.
The Thomas & Friends Fisher-Price Wood Family Farm Set Toy comes with 2 track adaptors that are compatible with other wood track systems.
The set is extremely well made and well detailed. And it has lots of fun little touches that kids love. The touches include the little windows in the barn that the chickens or dogs can look through, the fun cargo you can load up, and the beautiful paint job on the engine.
It's great that it's a stand-alone set that doesn't require a lot of other stuff for it to be much fun. The durability and quality of this product make it something that will be enjoyed for years to come. This is a fantastic set, especially for a kid who doesn't have a lot of Thomas toy sets.
With a barn, windmill, farm stand and a host of delightful characters, your kids will have their imaginations greatly inspired!
Pros
It's very easy to build/assemble
The tracks are kid-friendly
It has a very nice and sturdy garage
Absolutely durable and well detailed
Cons
It contains lots of plastic pieces for a wooden train set
5. Melissa & Doug Latches Barn Toy
Melissa & Doug makes really great toys and this barn is no exception.
The beautifully crafted Latches Barn Toy is brightly painted both inside and outside, decorated on the interior with pictures of farm animals and with 6 brass – hinged barn doors. It also comes handy with a brass handle for easy lifting and comes with 4 flocked animals – a cow, goat, pig and a horse that all fit inside the barn.
Any kid who is so fascinated about doors will definitely love this one, as there are so many doors on this barn. Each door has a different latch for the toddler to practice how to open and close latches effectively. The different types of latches present are absolutely great for dexterity.
The locks are big and appropriate for toddlers to play with and the animals that come with this set are so cute!  They are lightweight and covered with soft fabric so that when toddlers throw the toys, they wouldn't get hurt.
Although one could argue that the animals are cheaply made and not very durable, the barn itself which should be the major reason for purchase is absolutely durable and completely made of wood. I'd recommend buying different animal sets than the ones that come with the barn if you're not entirely comfortable with those.
The fact that the doors on both ends open is an added advantage as the barn can also act as a car garage.
Overall, this is a great learning tool that helps kids to practice using their fine motor skills and imaginations.
Pros
It helps develop multiple skills
The playset comes with several animals and this makes it a good buy
The barn is quite colorful and eye-catching for any toddler.
Well detailed playset
Cons
The animals that come with the barn are not safe enough for toddlers who love to put things in their mouths.  I recommend buying a different animal set entirely to go with the barn
6. Battat – Wooden Activity Cube
Your toddler will enjoy hours of playing and learning with the Battat Wooden Activity Cube. It is full of great activities on each side to create a variety and totally capture the imagination of kids. It has 5 sides of fun (excluding the bottom) and has so much for the kid to learn and discover.
The bright colors and graphics are very pretty and coordinate well without being as glaring as other toys. It is nice and heavy, so your toddler can pull up on it without it falling over. It keeps the interest of the little ones for some time since there's a lot that can be done with it; zigzag the beads up and down, drive the tractor around and spin plenty of spinners.
The corners on the top are cut flat and well rounded so that kids won't get hurt if they bump their heads onto it.
The activity cube is all made out of wood except the wires on top that the marbles go on. The greater part is that this wooden set comes completely assembled. You don't have to worry about putting any part together.
This well-crafted toy set is good for children who are just learning to stand and need a little bit of stimulation. The craftsmanship is absolutely beautiful and the quality of the paint is excellent.
There's so much to do with this toy and it's such an awesome developmental tool!  This is the kind of toy that gets passed down through generations because of its durability.
Pros
The corners are rounded and not sharp
It comes completely assembled
The wood frame is sturdy and durable
Features a vibrant gender-neutral color scheme and illustration art
Improves hand-eye  coordination for kids
Cons
It is a bit too heavy and quite bulky. This means that you really need a room or a bigger space to store it
Related: Top 15 ERTL Farm Toys for Kids
7. Melissa & Doug Fold & Go Barn
This wooden two-story structure is simply extraordinary when it comes to providing barnyard fun for your kids.
The barn comes fully assembled and features handles, sliding exterior barn doors, working interior stable doors, and seven realistic plastic animals which include a horse, cattle, pig, goat, dog, sheep, and turkey. Your kid would definitely enjoy arranging the animals inside the barn and stables.
The Melissa and Doug Fold and Go Barn is made with so much precision that you'd notice in the excellent quality of wood used in creating the barn and the details the accompanying animals possess both in color and texture.
The barn is nicely made, quite sturdy, easily accessible, painted properly and can contain lots of animals at a time.
The animals are a good size for toddlers as they cannot be swallowed and their unique coloring and sizes create a whole natural adventure in the mind of kids.
The hinges on the gates are fitted properly, hence, they have the tendency to last for a long period of time under the right conditions. This is a recommended playset for anyone in search of a barn for many hours of farming adventure.
I love that it encourages creativity, imaginative play and is just a basic wooden toy. Also, there are a lot of pens to put the animals.
I wish they had done a little more with the interior in terms of design because it's just plain wood and not painted at all. Asides that, every other thing is perfect.
Pros
There is so much room in this barn that can fit not only the animals it comes with but also several others
Sliding doors to easily access the barn
Opens up for easy play and closes properly for convenient storage
Sturdy handle for easy transport
Cons
Some of the doors are hard to slide open due to over gluing. As time goes on, this should no longer be a problem
Conclusion
While most of the wooden farm sets listed above typically do not have any tiny components, it is necessary that you always supervise your child during playtime. You never can tell, a bolt or two could loosen up during playtime and could likely wind up in your toddler's mouth when left unattended.
Compare Farm Toys