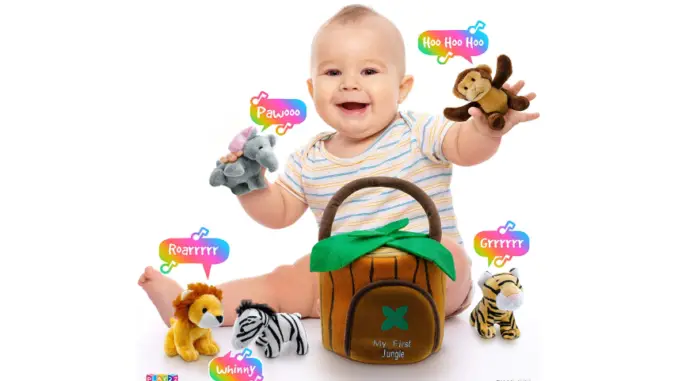 The average toddler is ready to explore with all of their senses. That's why it's important to provide them with the kind of toys that help develop their cognitive skills, promote creativity or learning, and bring them closer to nature.
This is where jungle animal toys come in, as they allow the toddler to explore the beauty of nature, foster curiosity about wildlife and educate them about the wonders of nature.
When shopping for toys for kids, you should be on the look-out for one that's properly made – so as to withstand the inevitable wear and tear – and one that you don't always have to spend a fortune to purchase.
Best Jungle Animal Toys For Toddlers: Top 10 picks
There are several jungle animal toys on the market. These are the best ones that would give your toddler a first-hand safe experience of wildlife and nature.
1. Safari Zoo Animals Figures Toys
This amazing 14-piece mother and baby zoo animals set includes lions, giraffes, elephants, zebras, cheetahs, and other well designed wild animals. They are durable, realistic, properly colored and can easily withstand the occasional toss and drops baby do.
The most amazing feature of the Safari Zoo Animals Figures Toys set is the sizes of each animal. Since it's highly recommended for kids 3 years and above, they are perfect for their small hands and yet big enough not to be choking hazards. Also, they are perfect for any play area, including the bathtub, as they are made of plastic and are hole proof.
If your kid is at the discovery stage where everything is fascinating, particularly animals of all kinds, then this is the perfect playset. Each parent animal comes with its corresponding baby, so it's wonderful for a developing mind to see and correlate.
I strongly recommend this for parents trying to come up with an amazing visual jungle or zoo for their kids.
Pros
The details of the animal body parts are realistic
It is 100% safe; the animals come in good sizes and void of any toxic chemicals
The animals are highly durable, hence would be able to last for a longer period of time
They are of proper weight for any toddler to handle with ease
Cons
Most times, the bigger giraffe finds it difficult to stand unaided due to its large size and small legs. I would recommend you position it in between two properly standing animals to aid its balance
Related: Best Farm Animal Toys for the Kid You Love
2. Play22 Plush Talking Stuffed Animals Jungle Set
The beauty of this product is that it comes in a handy jungle carry case, which makes it look more organized and very suitable for a gift.
The 6 set plush animals include 5 animals and 1 treehouse. Animal toys include stuffed elephant, baby tiger plush, stuffed zebra, lion stuffed animal, and a monkey plush toy.
The Play22 Plush Talking Stuffed Animals Jungle Set is designed in such a way that each animal makes a distinct sound when you give them a soft squeeze. Not too loud, anyway, since the animals are quite small. But loud enough for the child to learn the distinct sound of each of the animals.
I must add that the sounds produced are not 100% realistic, but it gives the child a perfect idea of what these animals sound like in reality.
Also, the sizes of the animals may appear smaller than you expect, but the small size could be an added advantage since it fits perfectly into the palms of the little child. This makes it easy for them to squish in order to produce sounds.
In addition, the animals in this set are very soft, absolutely adorable, and look very well made. The addition of the treehouse to the package gives the toddler a complete jungle experience.
Pros
The pack is lightweight and well organized. This makes it easy to carry about
The small sizes of the animals make it a perfect toy for toddlers
 They are quite soft and don't pose any physical threat to the child
Cons
The sounds are produced by a speaker inside the stuffed animals. The sounds become incoherent when the batteries run dow
3. Plush Talking Jungle Animals Toy Set Plush Creations (5 pcs)
This is quite similar to the jungle set above but is more like an improved version.
It is a 5 piece set that consists of a baby monkey, giraffe, tiger, elephant plush, and a tree-shaped plush carrying case.
They are quite soft and of good quality but thick enough to withstand the pressure of a toddler. The carrying case makes for easy travel and pick up, and comes with a zipper to ensure that none of the animals ever get lost when placed in it.
Generally, children love to interact with objects, especially if they make sounds. So it helps to improve your child's interactive skills.
The sounds from the animals are quite audible but not overly loud, not to pose as a nuisance to the parents.
The Plush Talking Jungle Animals Toy Set gives your child a proper education on the sounds each animal makes, their distinct colors and most importantly, their names and habitats.
Pros
Comes in a well-organized pack
The animal sounds are very realistic
It does not pose any chemical threats to the child
The sizes of the animals make it very handy for the toddler
Cons
I personally do not recommend this for  kids under the age of 3 because the very small size of the animals could be a choking hazard for younger children
4. Animal Toys Set with Sound (set of 8)
If you're searching for that perfect play toy that could bring a group of children together, search no further. This is the perfect one!
The Animal Toys Set with Sound is a jungle and farm animals set that consists of a cow, horse, sheep, rooster, monkey, lion, tiger, and elephant plush toys for little kids.
They are designed with high-quality materials and the striking design will definitely impress any child.
One amazing feature of this playset is that the animals first announce what kind of animal they are when they're squeezed before making their corresponding sound.
The animals are soft and small enough for little hands to grasp easily.
One major fault I find with the playset is that it is difficult to change the battery when the battery goes out. You have to unstitch the top to access the voice box in order to change it.
Overall, these plush animal toy sets will not only promote a vivid sense of imagination and creativity in your kid but will also excite them and make them love to play and learn.
Pros
The soft nature of the animals makes them safe for both your kid and furniture
The animals are quite flexible and would be difficult to destroy
The quality of the set is top-notch
More animals give the kid more adventures
Cons
They don't make sounds without the batteries
Related: 7 Most Realistic Farm Animal Toys
5. Learning Resources Jumbo Jungle Animals
This 5 piece Jumbo jungle animal set is the perfect introduction to wild animals and a love of learning for your kid.
This set turns your child's natural fascination about animals into curiosity about the natural world.
The Learning Resources Jumbo Jungle Animals comprises of a lion, tiger, gorilla, elephant, and giraffe plastic animal set. The paint job isn't 100% perfect in some spots, but it is not very noticeable. The figures are quite large, which makes them more realistic.
Although they have a very strong glue-like stench when they come out from the bag, this goes away after some time. To be more comfortable, you could wash them and allow to dry as they are made of lightweight and durable dishwasher-safe plastic.
What tops it all is that the set comes with a fact sheet featuring fascinating facts about each of the jungle animals.
Pros
They are made of non-toxic materials
The sizes of the animals are quite large and very realistic
The animals are water-friendly, so your kid could use them in the bathtub
The activity guide which comes along with it is a perfect learning tool
Cons
The smell that comes with it when new out of the bag could irritate your kid. Airing the set for a while would do just fine to eliminate the smell
6. Learning Resources Jumbo Dinosaurs
Learning Resources Jumbo Dinosaurs is one of the best set of toy dinosaurs you can get out there.  This quite realistic set consists of a brachiosaurus, stegosaurus, triceratops, raptor and a Ttrex piece.
They are well made and would surely put a smile on any toddler's face. The dinosaurs are made with sturdy plastic and are hollow inside with a bit of flexibility.
They do have a definite plastic smell right out of the box but it's really not that bad after they sit for a couple of hours. The size is perfect both for displaying on a playroom shelf and for little hands to grab onto.
They are fairly good quality and lifelike. And they feel substantial in the hands but aren't too heavy for a toddler to hold. The set even comes with a booklet that tells facts about each of the animals.
Although the quality is quite good, I don't like that on each of the dinosaurs you can clearly see a seam where it was glued together. This makes it seem a little bit unprofessional.
Above all, it is definitely educational and good enough to act a little dinosaur movie for your kid.
Pros
The animals are very safe as they do not contain any toxins
They look quite durable and would definitely stand the test of time
The fact booklet that comes with it is a great learning resource
Cons
It states on the guide that they are dishwasher safe but there are actually holes in the tail and head that allow water to go in
7. Boley 40 Piece Big Bucket Toys
Boley 40 Piece Big Bucket Toys is an educational dinosaur playset that includes a massive variety pack of Jurassic world Dinosaurs such as velociraptors, t-rex, and several other multi-colored dinosaur sets. It also comes with rocks and trees, which are quite fragile.
The bucket contains a large variety of dinosaur to create a massive Jurassic jungle. There are, however, a lot of repetitions which is not quite ideal. The toys are perfect for little hands and the trees and rocks make it easy to create a perfect outdoor scene.
The animals are well painted, perfect for a pile of dirt or sand outside or prehistoric fun inside. However, they are not fun to step on barefooted as they are quite rough.
Give your child a head start by gifting them this playset and allowing them to learn about all the different animals of the Jurassic world.
Pros
They give the kid a complete jungle experience due to the numerous varieties available
The colors are captivating and are well detailed
They are safe for any child to play with
Cons
They are quite fragile with a lot of repetitions
8. Bristle Blocks by Battat
This is a toy set that greatly inspires creativity and imagination.
The brightly and well-colored 54-piece set includes 4 rolling wheels that add motion to objects, 3 animal figurines, and  7 jungle plant pieces. I personally think it is better for older children because they would find it easier to fix the various parts together and come up with something wonderful.
They are crafted with a unique interlocking design comprised of small rubbery 'bristles'  allowing children to easily connect pieces together in any way possible.
The blocks are of great quality, the colors are wonderful, the plastic is hard and durable, and the edges are nice and rounded to avoid injuries. Most importantly, the pieces fit together perfectly.
Bristle Blocks by Battat is a set that's great for starters; it offers a variety of blocks,  flowers, wheels, and animals. The bucket easily holds them all, so they can all be put away when playtime is over.
Pros
The pieces are easy to clean. Just use warm soapy water and air dry them
All edges are well-trimmed to eliminate injuries
Comes with a lot of pieces for kids to play with
They are particularly great for developing hand/eye coordination
Cons
There are multiple small parts that can fit in the mouth of a toddler
Related: Most Recommended Toy Farm Sets with Barns
9. Ericoo Animal Toys Set Figurines Educational Resource
This set contains 7 pieces of hand-colored animals which include a tiger, bear, fox, chimpanzee, raccoon, skia deer, and panda.
When you hold these little animals in your hands, you will notice right away that they are heavy and of very good quality. The quality and durability are outstanding; they are made of a very durable hard plastic.
I believe the manufacturers put in a lot of work and concentration in creating these nice animal pieces; the colors and every other detail are so on point. The animals are the exact replica of their real-life counterparts.
The sizes of the animals are quite commendable also. Big enough for kids to hold and play with.
The Ericoo Animal Toys Set Figurines are simply one of the best quality toys you can find out there. They are tough enough to stand the test of time.
Pros
They are absolutely durable
The paintings are one of the best you can find out there
The set gives your child a proper view of what these animals look like in reality.
Cons
A little too hard for toddlers who still love to throw things around.
10. Fisher-Price Little People Share and Care Safari
This extra-large little people playset features 2 sides of play, 5 discovery buttons, 6 different wild animals and a variety of exciting sounds, phrases, and songs that introduce kids to fun facts about different animals and how to keep our animal friends safe and happy.
You have the barn, sit and stand raceway, airplane, bus, zoo train, floor mat, A to Z learning zoo, and a bucket of 77 random little people.
The animals feel more on the hard plastic side than the slightly rubbery feel, hence, they have the tendency to last longer.
The Fisher-Price Little People Share and Care Safari come with different discovery buttons that when the kids get to press them, lights or sounds come on, leaving them in a state of awe!
Also, your toddler's little hands get a little workout as they grasp and interact with the figures, strengthening dexterity and hand-eye coordination.
It's huge, so your child will definitely like how it looks. It's colorful and the parts seem to be nice, thick, and sturdy. So, it won't get broken easily. There are also a lot of little shelves for the animals to sit on.
The set includes one safari guide and six animal figures.
Pros
The sound effects are really nice and quite realistic
It improves the overall communication skill of your kid
I like that you can choose whether to include the sounds or not by simply removing the batteries
It is very easy to set up
Cons
The discovery buttons are a little bit too hard for the child to push
Final Verdict
I'd love to add that just as we all have our preferences, so also do our kids. So, before you proceed to place an order on any of the items above, make sure that it is one most suitable for your environment and your kid.
Compare Animal Toys