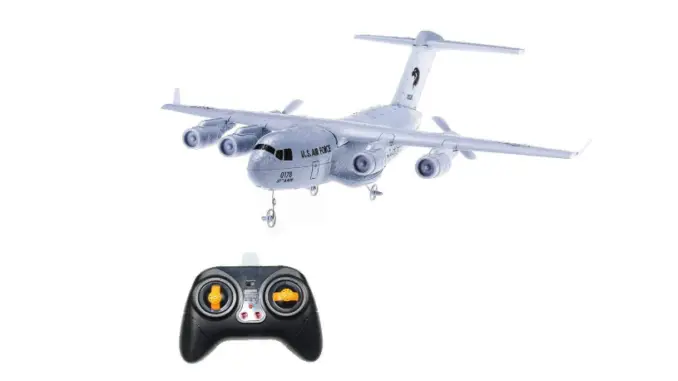 The satisfaction you derive from flying a toy aeroplane even when you have no prior experience of flying one can be exhilarating.
You can do incredible things like a barrel roll and inverted flying with toy aeroplanes.
Because there are many toy aeroplanes in many online malls, there is a chance that you'd not make the best pick. This is why I wrote this review after doing thorough research to make sure that you get the best value for your money.
Best Toy Aeroplanes with Remote Control: Top 7 Picks
There are a lot of toy aeroplanes on the market. The ones described below are the best deals that would offer you the best flying experience.
1 HobbyZone Sport Cub S RC Airplane RTF 
With the HobbyZone Sport Cub S, you can learn and you can ascend, swoop, and fly at your own pace. Working with ailerons, elevators, rudders, as well as throttle puts you in control of the channel RC. The device is a 16.3-inch long remote control aeroplane for your kids with a 24.3 inches wingspan. It is made of foam and its total flying weight is about 2 ounces. 
The SAFE (sensor assisted flight envelope) function helps to learn how to fly in numerous modes and promptly get back to steady flight with the help of the panic recovery trigger. These modes are the beginner, intermediate, and expert mode. The difference between these modes is the level of flexibility and control that it affords to the user with the expert mode imposing almost no restriction. The SAFE technology also includes a 4-channel control that is available to you for your manipulation and control. You'll also have a feel of the in-built 2.4GHz DSMX technology. 
The HobbyZone Sport Cub has a wheel with a steerable tail and a super motor that can propel it to incredible speeds. With its Li-Po battery, you can be sure of experiencing a long flight time when you charge it for just once. It also comes with a fast-charge function to make the most of your time. In short, everything that you'll need is all contained within the box.
Pros
Excellent value for money
Beginners friendly
Long Battery life
Cons
No Water Protection
Light Weighted
Related: Best Farm Toys for Kids
2 FunTech RC Airplane
FunTech RC Airplane is a durable and very light device that's made with polypropylene foam, a frequently used material in the making of RC airplanes. Because it is extremely light weighted, about 0.32 ounces, you can easily control it to your advantage. 
If you're just starting out with RC planes, this is one of the best ones that'll give you the fun of flying a plane. With its 6 Axis gyro assist function, it provides more fun when flying for the first time. Moving the throttle from 10% through to 100%, you are instructing the plane to elevate with its corresponding rate so that you will achieve a beautiful horizontal flight with the aid of the lower throttle or ascend swiftly when you switch the throttle to a greater level.
You don't have to read a complete textbook on Acrobatics to be able to achieve an awesome acrobatic flight. You can bank it right and left when you make one of the two rotors spin faster.
It comes with a three modes control system. The beginner, intermediate, and the expert level with a full assist, partial assist, and manual control respectively. It's not difficult to set up. It's a multiple RC plane with a 2.4GHz radio remote control that can fly concurrently without any interference. 
Pros
Very durable
Helpful for new flyers
Longer battery life
Cons
It can be tossed by the wind because of its light-weight
It may stop working great when mishandled
3 YSTFLY 2.4GHz 2CH DIY EPP RC Plane
YSTFLY RC Plane is an attractive remote-controlled plane that you will definitely fall in love with. The body of this glider plane is constructed using the EPP foam material. As a result, the plane is very light-weighted and highly resistant to some destructive elements so that even if you mistakenly crash it, it would likely not be destroyed. It includes a portable USB and a propeller plus very durable extra batteries. This will ensure that you have that long fight time that you desire.
This glider plane comes with a frequency of 2.4GHz control system, which enables you to control it from a distance of up to 150 meters in a space without obstacles for a period of 20 minutes.
One of the best reasons why you should get this plane is that it is beginner-friendly. This means that you need no prior experience to fly it, unlike some drones and other toy planes.
The wonderful features of this RC plane include the control range, the durability of the RC plane as a result of the material it is made of, and the long flight time.
It's a nice deal for functionality — plus, it's not difficult to assemble and it works with great ease.
Pros
Highly durable
Highly resistant
Cons
Extremely light-weighted
No water protection
Related: Best Diecast Farm Toys & Tractors
4 Crazepony RC Airplane C-17 Transport
Just like the toy aeroplanes I discussed above, Crazepony RC Airplane is a beautiful airplane with a length of 400mm and a wingspan of 373mm. It is made of long-lasting EPP foam material so that it is not affected by light crashes. Because it is light-weighted, it can fly very high in the sky for about 15 minutes. It has a high battery discharge rate and takes up to 40 minutes to fully charge.
When you buy the plane, you'll be sure to easily set it up because it comes with a detailed instruction that enables you to easily assemble it yourself without any need for an "expert hand". It can be great fun when you assemble it with your kid.
The device comes with two channels 2.4GHz remote control system that allows you to maneuver and operate it at your comfort. I highly recommend this for beginners because it is easy to fly. It also includes a three-axis gyroscope that gives it a sensible aerodynamic layout. The airplane is not difficult to handle because of the 3-axis gyroscope scheme.
It's very important that you use a suitable glue like the Gorilla Glue Gel to hold the part together when assembling the device. 
EPP foam is the material used to make the support structure of most modern car bumpers. Due to the fact that the mini XVP is constructed using the EPP foam material, you can fly the plane into brick walls, asphalt, or some other rock-hard surfaces and you'll be sure that it would not be damaged.
Pros
Very durable
Reasonable aerodynamic layout
3-axis Gyroscope function
Cons
It has a high rate of battery discharge
Can be easily tossed about because of its extreme light-weight
5 Top Race Remote Control Airplane
This remote control plane was initially built for beginner and intermediate pilots under a "Ready To Fly" training scheme. Top Race Remote Control Aeroplane is a complete three-channel remote-controlled aeroplane (Throttle, Rudder, and Elevator). This means that when the aeroplane is fully assembled, it flies in three channels. When placed in a beginner mode, the gyro system becomes self-stabilized to enable the plane to fly without any restrictions in the case of a disturbing weather condition. There is also the intermediate and expert level.
It comes with a 2.4GHz remote control system that enables it to fly high, towering feats of up to 320 feet. It is light-weighted and durable owing to the fact that it is made of the EPP resistant material. Because it comes with a convenient size, you can sure take it to wherever you want to go. 
For a battery charge of about 90 minutes, you can fly the plane for about 15 minutes. Also, the device includes an awesome gliding capability with control rods that are constructed with steel and pre-fixed to the servos. Its wingspan is about 15.7 inches and has a height of 4.1 inches. It also comes with additional propellers, manual and wheel plus charging cable to charge its 3.7V 180 mAh battery.
Pros
Includes extra propellers and charging cables
Perfect body design for gliding
Very durable
Cons
High battery charging time
Can be easily tossed about by the wind
Related: Top 7 Big Farm Toys
6 PLRB RC Predator Airplane
PLRB RC Predator Airplane is arguably one of the best remote control planes out there. It is also a recent toy airplane that has gained popularity in a short while. The device was constructed targeting pilots that are just starting out in their practice. Also, children above 14 years were kept in mind when building the plane. It's a very likable toy airplane that is quite easy to control.
Its superior technology helps you to fly it easily. The plane comes with a 3-axis gyro system that automates the process of flying it. Experts and beginners will indeed find this plane exciting to fly. 
It includes a lasting fuselage. Being made of durable EPP foam material, the airplane is secured against crashing occurrences. The wing and the body of the plane are also protected and remain in a good flying condition during the flying process.
It includes two powerful coreless 816 motors that are surprisingly less weighty and are powerful enough to make flying in the sky very easy. There are two ways of taking off; sliding off and throwing off. Both of them offer an exciting flight path.
It is a powerful two channels 2.4 GigaHertz remote control plane that has a large wingspan. This large wingspan will also allow it to balance and last more in the sky in case of any interference by the wind. 
Pros
Large wingspan for balancing
Durable
Includes the gyro system for easy navigation
Cons 
7 Volantexrc Remote Control Airplane
Volantexrc Remote Control Airplane is one of the most popular toy planes out there. It comes with the Xpilot Stabilization scheme to enable you to easily fly it. Also, it features a super over-grade motor module that lets users to easily control the plane and even perform aerobatic flying. It is surely one of the best deals that beginners can make.
The airplane features a three-level flight control system for beginners, intermediates, and experts. The Beginner control assists offer a full control assist while the Intermediate assist offers a partial assist. The Expert level offers manual assist. 
You're sure to have more fun with this remote control model airplane. It is indeed the perfect outdoor glider for adventure and fun. With its 2.4GHz remote control technology, you can control it from a distance of 656 feet.
Volantexrc Airplane includes a powerful anti-interference capability that allows you and your friends to carry out a small flight bash. Also, using its superior U-turn function, you can exert more control on the airplane. This function helps you to maneuver the glider plane by making it return to the opposite direction that it took off from. You'll have to enable the one key function so that the plane can take off and hold down the "U-Turn" button during the period of the flight.
It is designed with a unique EPP foam material that confers a light-weight to the glider plane. This material also ensures that the plane is durable and flexible so that when it crashes, the damage is minimized.
Pros
Highly durable
Greater remote control distance
Powerful anti-interference ability
Cons 
Can be tossed about by the wind because of its lightweight
Final Thoughts
It is true that there are various manufacturers of toy planes that claim that their products are the best. But then, many of these products can't stand the test of time. Right here are some of the best toy aeroplanes with remote controls that you can use or give to someone as a gift.
Compare Toys…