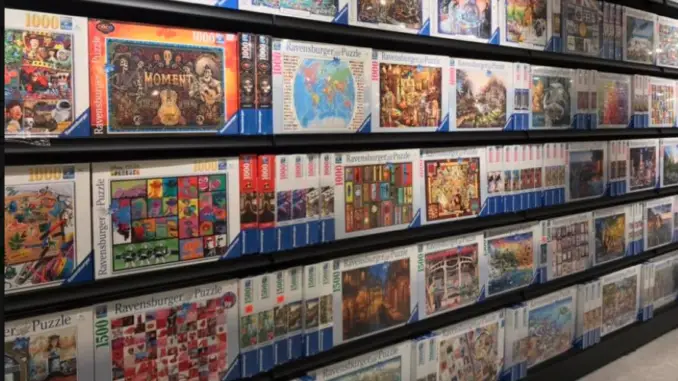 There's no denying that there's this nostalgic and satisfying feeling associated with finishing a Ravensburger jigsaw puzzle.
It shoots your mind back to memories of your childhood where the entire family would gather together indoors to have a fun time putting the pieces together on a beautiful Christmas morning.
Well, if you're looking to relive those happy memories with your current family, and would like to get your hands on a Ravensburger puzzle, I've generously compiled a comprehensive list of some of the top online puzzle vendors on the entire internet to help you with your search.
Feel free to thank me at the end of this post.
Where to Buy Ravensburger Puzzles
The following are the 7 best places to buy Ravensburger puzzles.
1 Ravensburger
What better place is there to buy a branded product than from the manufacturers themselves?
Ravensburger offers a mountain of jigsaw puzzles on its website where you can get access to a wide variety of products. Some of them include puzzles with faces of the solar system, Christmas, construction workers, animals, the Vatican and a few movie-related themes like the Incredibles, Finding Dory, and Harry Potter.
The best thing about buying from Ravensburger is that you can request for a custom made puzzle with any picture of your choice. These puzzles are available from 100 pieces to 1500 pieces and still maintain the Ravensburger quality despite being custom made.
Website: https://www.ravensburger.us
Related: List of Where to Buy Jigsaw Puzzles
2 Amazon
I'm sure you already predicted that Amazon would be on this list, and why not? It's the world's largest online retailer with over 600,000 sellers on its platform.
To get access to the variety of Ravensburger Puzzles on the website, log in to the platform, locate the search bar at the top of the page, then type in "Ravensburger Puzzles".
If you followed the instructions correctly, you would be greeted with over 1000 puzzles for different age groups with various themes like the famous Ravensburger dragon, Christmas, library, laundry day, Christmas trees, autumn, golden gate sunrise, and so much more.
Keep in mind that you'll need to create an Amazon account to purchase any item.
Website: https://www.amazon.com
3 Jigsaw Jungles
Up next is Jigsaw Jungle; an online retailer that puts quality first ahead of everything else.
Not only do they ship your product within the same business day, but they also provide a one year warranty instead of the typical 30 days return policy.
So, if you don't enjoy your purchase for some strange reasons, Jigsaw Jungle is sure to make things right one way or the other.
Their stock includes a plethora of puzzles made by hundreds of trustworthy manufacturers including Ravensburger.
When you visit the site, go to the menu bar, click the "Shop By" option, then search by manufacturer. You'll find Ravensburger occupying a spot on the list of manufactures.
The Ravensburger category features a wide range of exciting puzzles including the famous Disney themed puzzles, 3D puzzles, animal puzzles, landscape puzzles, construction crew puzzles, sports puzzles, and a host of other products.
The company also took a step further in customer service by providing a guide on what to do when you lose a puzzle piece. The guide also contains the contact information of the manufacturer in case you need to reorder the particular part that got lost.
Website: https://www.jigsawjungle.com
4 Wholesale Puzzles
If you plan to share the joy of completing a Ravensburger jigsaw puzzle with the rest of the world either through charity or as a business, then you should visit wholesale puzzles.
Their easy-to-use shopping platform offers a range of high-quality products from puzzle manufacturers such as SunsOut, Ceaco, Masterpieces, Buffalo Games, Cobble Hill, and of course, Ravensburger.
In the Ravensburger section, you'll find a few puzzles with themes like quaint shops, rooftop gardens, bookshops, libraries, beaches, and more.
*Note: The products are all available in wholesale.
Website: https://www.wholesalepuzzles.com
Related: Best Places to Buy Sensory Toys
5 Indigo
Although Indigo is majorly an online book store, it has over 7 million other entertaining products which include tech, fashion, toys and more.
To access the Ravensburger Puzzles in the "toys" category, you can choose to sort by toy type and brand manually, or you can take the fast route by looking up "Ravensburger Puzzles" on the search bar at the top right corner of the page.
The category features an endless list of puzzles by Ravensburger which includes nostalgic puzzles like plants VS zombies, 101 Dalmatians, sleeping beauty, and the lion king. Plus a few other intriguing themes like wanderlust, Jurassic Park, Jaws, Dumbo, and barbie.
You're sure to find a hard time making a pick with this long list of options.
Website: https://www.chapters.indigo.ca
6 Jigsaw Puzzles Direct
Jigsaw puzzles direct is one of the largest online retailers of adult and children's puzzles in the United Kingdom.
Their collections feature a wide range of toys from over 20 international puzzle manufacturers such as SunsOut, Ceaco, Masterpieces, Galt, Educa, Antolian, and our favorite Ravensburger.
To access the list of Ravensburger Puzzles available on the platform, click on "Ravensburger" on the "sort by manufacturer" option when you visit the homepage.
You'll find an endless list of puzzles to wow your friends and family with themes such as animals, landmarks, Christmas, fantasy, history, humor and tons more.
Website: https://www.jigsawpuzzlesdirect.co.uk
7 Puzzle Warehouse
Puzzle warehouse makes the search for your desired puzzle a thousand times easier thanks to its easy-to-use interface.
They've got all types of Ravensburger Puzzles such as landscape, cute animals, science fiction, cowboy, Disney themed, and fantasy.
Just take a look around and make your pick.
If you're going to ignore the other irresistible products on this platform and go straight to the section with the Ravensburger Puzzles, then look up "Ravensburger" on the search bar.
It will instantly take you there.
Website: https://www.puzzlewarehouse.com
Conclusion
There's no doubt that puzzles are a fun way to develop analytical thinking skills and also spend quality time with family and friends.
In case you finally decide on a retailer to order your puzzles from, please ensure that you check their return and shipping policy before you commit your money.
This is to help you know where you stand just in case you receive a damaged product or one with a few missing pieces.
Compare Toy Sellers & Brands