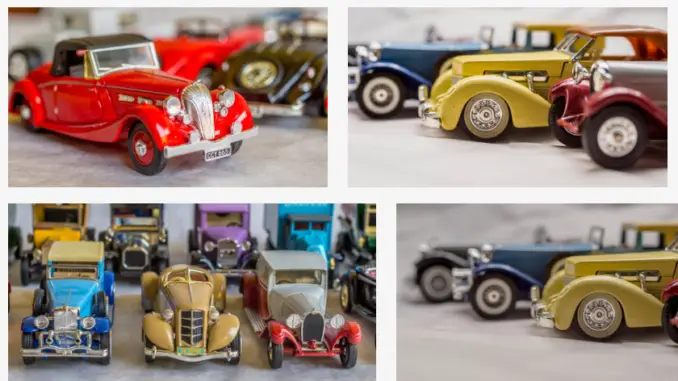 Diecast cars aren't just regular toy cars, they're a miniature 3D representation of vehicles that once existed during a certain time in history. And as a collector, it's probably your dream to own a heap load of them.
But like every collector, there comes a time when you'd want to sell some of your collections to make more space for newer ones, or you simply want to share the joy of owning a diecast model with other upcoming collectors.
Therefore, knowing the right people and place to sell these precious models is crucial to the item's safety, and also saves you from falling victim to scammers and people that might cheat out of a good deal.
For this precise reason, I've decided to ease your mind by compiling a list of some of the best places where you can sell your diecast models and get the compensation that you deserve.
Where to Sell Diecast Toys
This is a list of genuine places to where you can sell your diecast cars or any other toy.
1. eBay
One of the oldest ways to sell a valuable property is through an auction. And what better way is there to reach a global audience in this modern era other than the world's biggest online auction platform "eBay".
eBay is an online marketplace where sellers can open their own online store and list items for sale to potential buyers.
How does it work?
You simply list an item, add some photos with a description of the item, then assign a price and shipping options. Buyers can then bid on it or simply "Buy it Now."
When the item has been purchased, the buyer pays you either via eBay's payment platform, or PayPal.
After that, all you need to do is to ship the product to the buyer, and your diecast is sold.
Although it is free to upload a product for sale, keep in mind that eBay charges a small fee when a product is sold, so you have to be a bit strategic with your price so that you won't run at a loss.
Website: https://www.ebay.com
Related: What Diecast Cars Are Worth Money?
2. QDT – Quality Diecast Toys
QDT is a professional diecast toy buying and selling company that has been in business since 1984 and boasts an annual turnover of £1,000,000 from all their collections.
How does it work?
They offer their services in two distinct ways; sell your collections through us and sell your collections to us.
Sell your collections through us:
In this feature, QDT helps you sell your diecast models to other ready buyers on their platform at an affordable fee, which is a 22.5% commission of the sale price with no hidden charges.
This means you will receive 77.5% after the product has been sold successfully.
*NOTE: Percentage is negotiable for high-value items but terms and conditions also apply.
After uploading your product, they will continually help you market the item until it is sold. This is far cheaper and better than taking your items to an auction.
 Sell your collections to us:
However, if you're not interested in this lengthy method, QDT recommends you sell to them directly to save time.
All you need do is sign up on their website, send a snapshot, descriptions, and price of your diecast model via email.
And If your item(s) is in line with their quality standards and specifications, they'd send you a reply within 48 hours expressing their interest.
*NOTE: you can send your diecast to QDT via the mail or save your energy by allowing their agent to pick it up from your home.
Website: https://www.qualitydiecasttoys.com
3. Vintage Cash Cow
Vintage Cash Cow is an expert dealer in a wide range of Vintage products including chairs, plates, combs, cameras, clocks, and diecast models. Basically, even if the item is broken, they'd buy it from you as long as it's Vintage.
This is the perfect platform for you to trade any damaged diecast car you might have since diecast cars lose a lot of their worth when damaged.
How does it work?
Just log in to their site, request a "free guide", fill in the fields that come up, then proceed.
After you've completed the required form, simply mail your diecast model to their office where an expert will evaluate the item and give you a price on how much it's worth.
After a price has been agreed on, your money will be given or wired to you on the same day the deal was made.
It's fast, easy, and simple.
Keep in mind that mailing the package to their office is free of charge.
Website: https://www.vintagecashcow.co.uk
Related: Top 8 Summer Camps for 5 Year Olds
4. DNR Collectibles
Just like Vintage Cash Cow, DNR Collectibles is a professional dealer in the buying and selling of Vintage items including toys, hot wheels, Barbie dolls, action figures, and pressed steel toys – they buy all.
With over 50 years of business experience, they have always been successful at putting a smile on their customers' faces after every transaction.
How does it work?
Visit their website and begin the selling process if you're looking to sell a large number of your collections.
You'll receive an email detailing their interest in your collection after providing the necessary information.
With their main office in Enola, PA, they have pledged to travel 2-300 miles for an average collection. They will travel much further to pick it up if your collection is exceptionally large and/or very valuable.
Website: http://www.dnrcollectibles.com
5. Conventions and Trade Shows
If you feel the internet is an unsafe place to sell some of your most prized possessions, then a trade show is a preferred alternative.
Trade shows are one of the best ways to meet people who are equally as enthusiastic in the sport of collecting as you are.
The Annual Hot Wheels Collectors Convention or the Matchbox Collectors International Gathering of Friends are your best bet to making the most sale.
However, there are a few things you need to keep in mind before you pick up a marker to underline the date on your calendar.
You won't need to spend a huge amount on transportation if the trade show holds within your city. But if it doesn't, you'll have to add the cost of transportation to your budget. You also have to rent and set up an eye-catching booth at the show to display all your collections.
How does it work?
Have something worth buying. If what you're selling isn't worth the transport and booth set up, then there's no need to attend in the first place. Attending may result in a waste of time and effort.
Be interactive and put on your best sales hat for as long as you're at the show.
You're bound to encounter some enthusiastic collectors looking to add more unique models to their own collections as long as you set up an eye-catching booth with a lot of unique models.
Final Words
No matter the method or platform you may decide to employ, confirm their authenticity before trusting them with your collections. This is just to make sure that everything goes smoothly as expected.
Check these out…