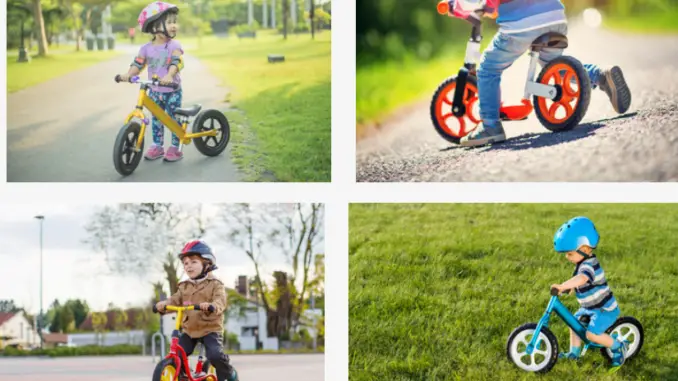 Balance bikes are one of the best toys that amuse kids. This is why there is an increasing number of parents that buy them for their children.
One interesting fact about these bikes is that there are different sizes for kids of different ages.
If you're looking to buying a balance bike for your kid, it's important to get a high-quality and durable one. The store you purchase from plays a vital role in getting the desired one.
This is why I compiled this list of where to buy balance bikes. The stores listed here are some of the best and trusted places to make your purchase anywhere in the world.
Benefits of a Balance Bike
I know you're here because you've already decided to buy a balance bike but I believe it's worthy to still outline some of the major benefits. Here are some of the reasons why you should buy a balance bike for your kid.
Kids learn to balance faster
The bikes are designed to help kids to quickly learn balance and coordination – and that is what they do. Unlike tricycles that tilt to one side and give kids a false balance while they ride, balance bikes help kids to actually learn to balance on 2 moving wheels without support. This also helps them to easily transition to pedal bikes as they grow older.
It gives kids full control
Kids can choose to walk or run while gliding their bikes. This means they can go as fast or as slow as they want. The lightweight makes the bike easy to maneuver, giving them full control as they glide.
It is safe
Not only does the bike help children to learn to balance on the driveway but it also helps them on uneven surfaces.
It is cost-effective
The bikes are durable and don't go out of fashion. Even when your kid graduates to a pedal bike, the old bike can still be used by the younger sibling or sold on craigslist.
It helps to boost confidence in children
Balance bikes can be used by kids of all ages. They don't need support or assistance from adults as they can control the bikes themselves by walking or running. In fact, the bikes don't have a push bar since it will be useless. This gives them a feeling of being in charge and psychologically increases their confidence level.
Related: Top 10 Farm Toys Stores to Buy From
What to Look for in a Balance Bike
There are several features to consider before getting a balance bike. Here are some of the major ones.
Size
The size of the bike matters a lot. You don't want to get a bike that is too big or too small. This will make it uncomfortable for your kid. Consider the size of the wheels and the height of the seat. Most wheels are 12" but there are other wheels of 14", 16", and 20". The seat height is also very important; it shouldn't be too high or too low for your child.
Weight
The weight of the bike is a major factor that will determine how easily it can be maneuvered. It is often recommended not to get a bike that is more than 30% of a kid's weight. Doing this will mean the bike may become difficult to handle and won't give as much fun as desired. I'm sure that's not what you want.
Brake
Some balance bikes are equipped with hand brakes while some aren't. Most parents prefer bikes with brakes. And this is a good thing as it helps kids to learn how to use brakes before transitioning to pedal bikes. And most importantly, it prevents them from injuries and their shoes from getting worn out.
It is, however, not recommended to get a bike with hand brakes for toddlers.
Frame
Balance bikes are designed with various frame materials like aluminum, steel, or wood. Each one has its pros and cons. But aluminum is most preferred because it is strong, light, and rust-proof. It is the material used in most high-end bikes.
Related: List of Britain's Farm Toys Collectors
Where to Buy Balance Bike
1 Amazon
Amazon is one of the best places to buy a balance bike for your kid. There are a variety of brands available on the online store. And the good news is that they are categorized for easy selection. The bikes are categorized according to age range, price range, and popularity.
As for age range, the bikes are available for toddlers of 0 to 1 year, 2 to 4 years, and 5 to 7 years. For price classification, you can choose from bikes under $75, between $75 and $100, and above $100.
You can get both aluminum and wood balance bikes on Amazon. Get a balance bike on Amazon here.
2 Walmart
Walmart is a popular ecommerce platform with physical stores in 27 countries. They offer their products to about 265 million customers who visit their (over 11,200) stores weekly.
Walmart is a very popular store in the US and several other countries. Their website contains different brands and colors of balance bikes for children of all ages. The bikes are also available at different prices; some are reduced while others aren't. 
You can choose from different categories ranging from balance bikes from boys to balance bikes for girls and balance bikes for toddlers. Get a balance bike on Walmart here.
3 Bike Exchange
Bike Exchange is an online marketplace where you can buy and sell bikes. There is a wide variety of bikes available on the website. In fact, it is particularly created for this purpose, just as the brand name implies.
Whether you want to buy, sell, or just search for bikes, the website provides deals on anything bike. You can go through the categories of balance bikes and place an order to get it shipped to your doorstep. And if you'd rather buy from a local store, the site provides a list of local bike stores you can easily visit. This marketplace operates majorly in 10 countries. Get a balance bike on Bike Exchange here.
4 Bike-Discount
Bike-Discount is one of the best online bike stores that offer a wide range of bikes and accessories at competitive prices. They partner with several brands and manufacturers to offer the best products worldwide. And their website offers you the flexibility of shopping in a number of currencies. You can make view prices and make payments in Euros, Pounds, US Dollars, and a few other currencies.
Bike-Discount also offers various brands and colors of balance bikes at different prices. They provide two shipping methods and offer international shipping to different countries. Their shipping methods include DPD and DHL. Get a balance bike on Bike-Discount here.
5 Costco Wholesale
Costco Wholesale is a retailer with a presence in 8 countries. The multi-billion-dollar store offers several types of bikes for sale including balance bikes.
They offer both aluminum and wood balance bikes. But they have a very limited number of brands on their website. Unlike the other stores, Costco Wholesale doesn't provide the luxury of choosing from a wide range of bikes categorized according to prices and ages of kids. The options are quite limited. Get a balance bike on Costco Wholesale here.
Brands of Balance Bike
There are numerous brands out there. Here are some of the popular names: Strider, Bixe, The Croco, Kazam, Radio Flyer, JoyStar, Banana, Schwinn, Aceger, Gomo, Infans, Yellow Jacket, iBaseToy.
Check Out Toy Stores & Brands