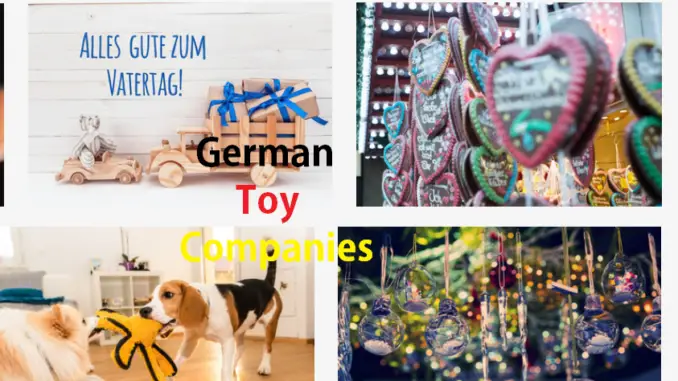 There are so many reasons why people search for the list of German toy companies.
Unfortunately, there are scarce resources online that provide enough information on this query. This is why I've gone through the troubles of compiling a worthy list that will suffice any information seeker.
Whatever your reasons for looking for German toy manufacturers, this list will give you as many details as you need. It contains selected German toy companies and an overview of each one alongside their contact details.
For some reasons, some of the companies only make their US and Canada locations available on their websites. So, if you're hoping to visit them in Germany, you may need to contact them for their German address.  
German Toy Companies List
This is the list of German toy manufacturers including an overview of each company and their details.
1 Bruder
Bruder is a German toy manufacturer with offices in many countries. It is a family-owned company founded by Paul Bruder in 1926. The toy manufacturer is now a globally recognized company with a presence in over 70 countries. This is made possible by exporting 68% of its products.
2 HABA
This is a family-owned German toy company that was founded in 1938 in Bad Rodach. This manufacturer produces educational and creative fun toys that are loved by children of all ages — and even adults. They have collections of toys that encourage early learning and promote creativity in kids as they catch fun with the toys. Their range of imaginative toys resonates with children of all ages. HABA produce and test all their products in Germany.
3 Steiff
Steiff was founded in Germany by Margarete Steiff in 1880. She was a seamstress who started making elephant toys for kids and sold them to her customers. She later began to make other animal-themed toys that enticed children. The company began to expand when an American ordered 3000 pieces of the toys.
Steiff continued to expand, and several years down the line, it became known as a leading teddy bear manufacturer in Germany and the world.
Related: 30 Best Toy Brands in the World
4 Grimms
This company uses nature to produce educative toys that encourage early development in kids. They manufacture a range of high-quality and safe wooden toys that give children a feel of nature. They believe that wood radiates liveliness and accompanies children for a long time.
Grimms produce toys for kids of all ages ranging from babies to infants, preschool, school children and adults.
5 Hape
This is a German wooden toymaker that is known for the production of high-quality and durable toys. The company manufactures various types of toys ranging from educational toys to creative and imaginative toys. They use their toys to build the problem-solving skills, social skills, and fine motor skills of children.
6 Schleich
Schleich is a reputable leading toy manufacturer in Germany. It was founded in 1935 with the aim of producing figures that will spike children's enthusiasm.
Schleich is a well-established manufacturer with a range of products selling in over 50 countries across the globe. The production and test of all its products are done in Schwäbisch Gmünd, its German headquarters.
Related: Full List of Britain Farm Toys Collectors
7 Playmobil
Playmobil is a subsidiary of Brandstätter Group. They manufacture a range of toys including human figures, animals, vehicles, and buildings. They also produce football figures for children who are sports lovers and would love to have a replica of their football star in their hands. Playmobil was established by Hans Beck in 1974. The company has its headquarters in Zirndorf, Germany. It also has offices outside Germany.
 8 Zapf Creation AG
Zapf Creation was founded in Germany in 1932 by Max and Rosa Zapf. Over the years, they have created a lot of toy brands ranging from Baby Born to Baby Annabell, Dolly Moda, Lil' Snaps, and Elli. Their presence is recognized in the toy market across Europe, New Zealand, Asia, and South America. They strive to make their dolls enticing to children even in this age of smartphones and tablets.
9 Wilesco
This is a leading manufacturer of live steam toys. Wilesco was founded in 1912 but did not begin manufacturing anything related to toys until 1920. Before then, they were producing cutlery and furniture fittings. The company reduced the production of cutlery as they began to expand.
Related: Best Farm Animal Toys for Toddlers
10 Teddy-Hermann
Teddy-Hermann is one of the most popular and oldest manufacturers of teddy bears. The toy company was founded in 1912 by Bernhard Hermann who started it as a family business. The company produce a variety of teddy bears and stuffed animals like monkeys, cats, birds, and dogs.
11 Fischertechnik
Fischertechnik is a manufacturer of construction toys. These toys are educating and they encourage imaginative play. The first set of toys was manufactured in 1965 as Christmas gifts for children who had an interest in construction. Since then, the country has been expanding and has experienced an impressive growth rate over the years.
12 Bullyland
Bullyland is a German toy manufacturer founded in 1973. They produce animal figures ranging from domestic animals to wild animals. They produce wild animals like zebra, elephant, and Giraffe. The domestic animals include rabbit, horse, cow, and cat.
Check Out Other Companies & Stores