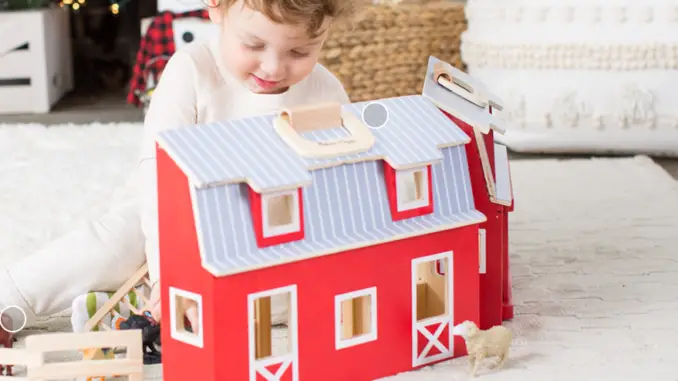 Farm toys are an excellent mix of fun and learning. They have a wonderful way of bringing the whole family together and permit children to build a fantastic relationship with their peers at school.
Shopping for the right toy farm set for your child might be more tedious than you think. This is why I've compiled this list to ease the stress associated with shopping. It contains the best toy farm sets with barns that you can get for any kid you love.
These toys will keep your toddler occupied and happy as long as he has them.
Best Brands of Toy Farm Sets with Barn
Before we begin, let me give you a quick review of two of the most reputable farm set brands in the toy industry.
1. Schleich
Schleich has been one of Germany's leading manufacturers of hand-painted toys, figurines, and accessories since the early 1930s.
They're responsible for the design of popular figurines from the 1980s like Snoopy, the Smurfs, and the Muppet characters.
Although most of their products are sold worldwide, their traditional market is located in Mainland Europe and is now becoming popular in North America, Australia, and the United Kingdom.
They've maintained a steady position as an industry leader, and aren't showing any sign of backing down.
Website: https://www.schleich-s.com
2. Tomy
Tomy International is one of the top global designer, producer, and marketer of high-quality toys for children, adults, infants, and toddlers.
Since their merger in 2006, Tomy has been responsible for making popular toys like John Deere tractors, Winnie the Pooh, Sonic the Hedgehog, and toy story.
They've successfully served the international market for over 13 years despite their headquarters being far away in Tokyo, Japan.
Tomy is definitely the toy brand for you if you're looking for something innovative and friendly.
Website: https://tomy.com
Best Toy Farm Sets with Barn: Top 10 Picks
Below is a quick review of the top 10 farm sets with barns.
1. Melissa & Doug Fold & Go Barn with 7 Animal Play Figures
The Melissa & Doug Fold & Go Barn is an excellent work of art with a measurement of 11.5 x 13 x 16.5 inches. It's basically a wooden two-story barn that comes fully assembled and features sliding doors, working interior stable doors, and seven plastic farm animals.
The barn is generally okay. Although it has a few parts that were painted sloppily, it's still a fun toy set for your kid to pass the time with.
It's worthy to note that the doors and windows are firmly held with glues, bolts, and knots.
Although the animals that come with set do not look completely lifelike, they do a great job of keeping children excited.
Pros
The barn is foldable
Light and portable
Beautiful coloring
Cons
Comes with only 7 farm animals
Related: Best Animal Toys for Toddlers
2. Schleich Stable with Horses & Accessories
Schleich has proved its dominance by producing a masterpiece called Schleich Stable. The set comes with enough entertaining features and accessories to provide the ultimate horse farm experience for children.
It has a length of 32″ (with the fence) and 23″ (without the fence), a depth of 14″, and a height of 10″.
I love that the set includes a barn, horse, saddle, bridle, rider, and a few other items commonly found in a stable like hay bales, feed bags, and lots more.
The Schleich Stable speaks nothing but quality. Both the barn and accessories are super sturdy and can be carried around without fear of disturbing your setup.
It is built with extra solid plastic, which means it will certainly survive a few accidental bumps, knocks, and impacts. But you have to be a bit careful with the horses and other accessories. Even though they're built with extra solid plastic, they can still be broken when bent inappropriately.
Pros
Very durable
A lot of pieces to work with
Beautiful design
Addicting
Cons
3. Lego Duplo Town Farm Adventures Building Bricks
LEGO has always been a big toy manufacturer for decades, and it's no surprise that they joined the farm set party with the Town Farm Adventures Building Bricks.
The set has a dimension of 18.9 x 14.9 x 4.4 inches and is the perfect tool for training your toddler's basic soft skills like cause and effect, problem-solving, engineering, and architecture.
What I personally like about the farm set is that it mimics a typical farm. It's got a farmhouse with a bathroom and bedroom, a few figures and farm animals, and a few bonus items.
It is a sturdy and colorful toy farm set that's worth the money.
Pros
It is beautiful and attractive
Realistic animals
Durable parts
Cons
Not easy to carry because of the individual Lego pieces
4. Wooden Animal Barn Playset for Kids
Your kid's dream of becoming Old MacDonalds is now possible thanks to this neatly-designed Wooden Animal Barn Playset by Terra by Battat.
This toy barn is super durable and has a measurement of 19. 57 x 13. 90 x 13. 07 inches. It will continue to retain its color and figure even if your clumsy little farmer plays with it on a daily basis.
The good thing about this spacious set is that it's compatible with a ton of animal figures from every brand. So, you can freely surprise your kid with a new set of animals with zero fear of it being incompatible.
It's built with very attractive materials and easy to put together. The piece is a nice one that's loved by kids. One downside is that it doesn't come with miniature farm animals. But it's a good fit for any child with a large collection of miniature animals.
Pros
The barn is spacious
Solid build
Realistic design concept
Cons
Slightly heavy
Miniature animals are sold separately
5. Playmobil Barn with Silo
Playmobil Barn with Silo is a simple way for your child to see what a real-life barn would look like. The manufacturing company paid a lot of attention to detail in this set. It's got a few animals in it; a working silo, a few cows, a wandering chicken, and a barn cat.
The set comes in a pretty big box with parts (plus a few hundred tiny pegs) that'll take you roughly 30 – 40 minutes to fully assemble. And if you're a fan of Lego blocks, you'll definitely enjoy building this one. It has three ponies, three figures, an adjustable fence, two farm cats, a drinking pond, and so much more.
The set is durable and can take a few impacts from your toddler anytime. If the impact dislocates some parts without breaking them, you can easily put them back together with zero fuss.
It's amazing to see that you can put animals inside, outside, and on top. You can also attach a chicken/rooster to the top of the roof with a peg – which is quite cool.
Pros
Spacious build
A plethora of farm animals and items
Realistic setup
Cons
Related: Best Realistic Animal Toys Set
6. Playmobil Pony Farm
The Playmobil Pony Farm has a lot to offer. It's a two-story barn with enough space to house miniature ponies and a large feeder for daily munching.
The barn comes with three ponies, three figures, an adjustable fence, two farm cats, a drinking pond, and so much more.
It's a really great farm set that requires some setup time. It has a plethora of farm pieces that will cost you roughly 30 – 60 minutes of your time to assemble all the pieces together.
The thing I really love about this set is the very small tools that are made proportional to the figure. This means that the tools fit so snuggly when you put them in the hands of the figures. It's truly a set that worth giving to your kid.
Pros
Light and portable
Adjustable figurines
A good number of farm animals and pieces
Cons
Relatively hard to put together for a toddler
7. Breyer Stablemates Deluxe Animal Hospital Set
Spark up the veterinary skills in your child with the Breyer Stalemates Deluxe Animal Hospital Set.
This is the perfect setup for any child who loves playing with animals and is also empathetic about their well-being.
It's got the state-of-the-art healing center including an emergency clinic, a large animal care center with exam rooms, and a grooming center for routine preventative care to keep the animals at top health.
The barn is quite easy to put together but the roof doesn't stay put. It often pops or slides around whenever you try to carry it around from room to room. The animal pieces are quite fragile and need to be handled with extra care.
Pros
It's portable
It has an irresistible design.
Cons
Not too spacious
Very fragile
Related: Top 7 Big Farm Toys for Kids
8. Melissa & Doug Wooden Fold & Go Barn with Animal & People
The Melissa & Doug Wooden Fold & Go Barn is the most suitable gift for a kid between the ages of 3 and 6 years. The red foldable two-story barn is occupied by  7 realistic plastic farm animals, a wooden ladder, and a folding corral.
The barn is undoubtedly beautiful; it opens up to reveal the stalls for the animals, a ladder and a gorgeous corral fence. It is, however, not very durable. You'll have to be extra careful when handling the toy.
You may experience the top layer of the wood flake and peel off at times. All you need to do, in this case, is to hold it firmly with wood glue to prevent it from falling off.
It's worth mentioning that the animals don't really look life-like. Although the farm animals have a not-so-good design, they won't be much of a problem for your toddler – toddlers don't really care about detail, so they'll love it either way.
Pros
Light and easy to carry
Beautiful design
Cons
Fragile
Animals are not very realistic
9. Breyer Stablemates Deluxe Horse Stable Set
Breyer has a track record of always putting all its energy and effort into a single product. And the Breyer Stalemates Deluxe Horse Stable Set is a perfect example of that.
This small two-stall stable has a special tack room and is packed full with all the equipment your kid needs to saddle their favorite pony. The barn is very okay but the paper-glued exterior may not last long before it starts to wear out from frequent usage.
The stable set comes with nuts and bolts to fasten the parts together. This holds it firmly and prevents the walls on the horse stable from falling down.
It has windows, doors, and a hinged roof that are sturdy and swing as they're supposed to. It also comes with a fence, extra accessories, and two neatly designed stablemates horses.
The stable offers enough room and accessories to keep your child's mind sharp and occupied.
Pros
The stable is well equipped
It has a good number of animals
Very sturdy
Cons
10. Ertl Farm Country Dairy Barn Playset
When you're on the lookout for a special toy farm set with a beautiful appearance, look no further.
The Farm Country Dairy Barn Playset weighs approximately 4 pounds and has a dimension of 14 x 5 x 18 inches. It comes with a variety of cows, figures, and farm-related equipment.
You may need a little extra muscle to piece this set together. And expect to encounter some resistance from the roof that doesn't snap into place easily.
The farm animals that come with it are beautifully made but have some flaws in the facial painting.
While you're setting up the farmhouse, you need to place the window shutter sticker in before you put the entire thing together. This way, you'll avoid the pain of trying to put them in with the wrap around and overhang obstructing the way.
One cool fact is that the playset also works quite well with John Deere Toys and tractor. So, you can add these if you want to spice up your toddler's playtime.
Pros
Fairly large
A pleasant appearance
Cons
Built with light materials
Slightly hard to set up
Conclusion
Any of these toys will do a great job of entertaining and educating your kid about farm life. The barn sets give kids the experience of a real-life barn. They get to know the types of animals, farm equipment, and other things that can be found on a farm.
Compare Farm Toys