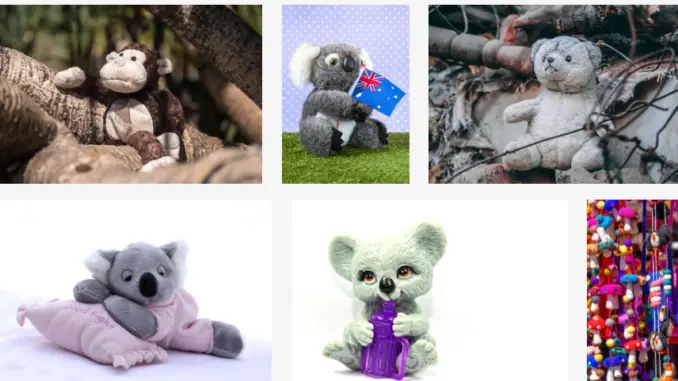 There are a ton of great business opportunities out there and one of the most lucrative is selling children's toys for a profit.
Toys are often recommended by child psychologists as a fun and healthy way to develop a child's imagination. They're perfect gifts for children on their birthdays or during holidays.
I believe you're here because you're searching for the best plush toys wholesale supplier in Australia to have a deal with. This is exactly what this article is about.
It provides the list of Australian animal stuffed toy suppliers that offer reliable services.
Best Bulk Teddy Bears Wholesale in Australia
As expected, the wholesalers and manufacturers listed in this article are all based in Australia.
1. Keycraft
Keycraft is at the top of their game when it comes to the business of selling stuffed toys in wholesales. Their mission is to source and develop quality items that combine creativity, integrity, and commerciality.
And they've stayed true to this mission by filling their website with a vast inventory of high-quality teddy bears, stuffed penguins, and a host of other amazing plush toys.
Website: https://www.keycraftau.com.au
Address: Keycraft Australia, Level 2, 18 Burns Road, Heathcote, NSW, 2233, Australia.
Tel: +61 (0)2 8599 1333
Related: List of Best Toy Brands in the World
2. Elka Australia
Despite being a family-owned business, Elka has slowly grown to become one of Australia's leading wholesalers of innovative and affordable soft toys.
Their business started in 1978, in Sydney, and was simply responsible for supplying toys to the carnival and skill tester markets.
By the mid-80s, their appealing stock of high-quality toys with low prices was later sought for by Australian retailers and corporate giants from New Zealand and Fiji.
Today they're one of the largest importers and wholesalers of high-quality plush toys in Australia. And their position of being a reliable vendor cannot be shaken because of their great price, customer service, and innovative style.
Website: http://www.elka.com.au
Address: PO Box 111, Milperra NSW 2214, 4 Amour Street, Milperra NSW.2214
Tel: + 61-2-9774-3777
3. Bocchetta Plush Toys
Bocchetta Plush Toys is proudly a family-owned business that has provided its customers with quality soft toys at wholesale prices since 1948.
What makes Bocchetta really special is that they design and distribute their own beautiful and child-friendly stuffed animals and offer them to other businesses in Australia. They've been a dependable partner for over half a century.
I have zero doubts that their stock of life-like plush animals will be a perfect fit for you.
Website: https://bocchettaplushtoys.com
Address: 12 Ern Harley Dr, Burleigh Heads QLD 4220
Tel: (07) 5568 0641
4. Korimco Toys
For more than 10 years, Korimco Toys has consistently supplied soft toys in bulk to Australian businesses in the gift, toy, and promotional industries.
The company gradually secured a spot as a strong leader in the wholesaling and retailing of soft toys. They offer a huge selection of innovative products with good enough quality that'll appeal to all ages.
Website: http://www.korimco.com.au
Address: Korimco ToysvPO BOX 4507, Dandenong South, Victoria 3164, Australia
Tel: (03) 9706 9057
5. Huggable Toys
Huggable Toys is probably your best bet if you plan on buying a truckload of stuffed toys.
They're a family-owned business in Australia and have a good record of being a steady importer and exporter of plush toys to all types of businesses and retail stores.
Their inventory includes a range of soft plush toys from the quirkiest to the most traditional.
Website: https://www.huggable.com.au
Address: unavailable
Tel: (08) 9303 9252
Related: Best Toy Manufacturers in Australia
6. Stuffed with Plush Toys
Stuffed with Plush Toys is a successful Australian toy business that began operations in 2006.
They initially sold only Bocchetta plush toy products in their early beginnings. Fast forward to the present, they now sell from more than 40 of the world's leading plush toy brands.
Over 300,000 soft toys have been sold both in wholesale and retail to happy customers since their incorporation. Their base of 175,000 grateful customers keeps increasing by the month.
Website: https://www.stuffedwithplushtoys.com
Address: 4/34-40 Bennet Ave Melrose Park SA 5039
Tel: 1300 786 345
7. Dormar Indents
Since it was founded in 1945, Dormar Indents has grown to be one of the largest wholesalers and retailers of plush toys, party supplies, giftware, and novelties in Australia.
Dormar offers a range of special gift items such as gifts for mothers, fathers, and babies. They have a catalog list of over 11,000 products to choose from. If you want to expand your inventory beyond just toys for kids, then Dormar is the right place to go.
Website: https://www.dormarindents.com.au
Address: Unit 2 / 45 Edward Street, Osborne Park, WA 6017
Tel: +61 8 9444 8700
8. Jasnor
Jasnor has a reputation for providing excellent customer service combined with added value for your money on every purchase.
They slowly gained recognition as one of the leading distributors and wholesalers of high-quality innovative toys and gift items in Australia.
The company's showroom, office, and distribution center are located close to Melbourne's CBD in a modern building. This location allows the company to properly operate at full efficiency and feature a few thousand toys on its website and showroom.
Website: http://www.jasnor.com.au
Address: Unit 5, 13 -19 Coora Road, Oakleigh South, Victoria 3167 Australia
Tel: 1300 881 940
9. Koch & Co.
Koch & Co is an Australian business that has always been seen as a manufacturer, wholesaler, and distributor of florist supplies and accessories for over 80 years.
Ever since the company was established in 1931, they've steadily sourced and develop their inventory off the shelf of some of the most reputable manufacturers in order to provide the best products at the highest quality and cheapest price.
Although they are known as a dealer in florist supplies, they also offer a range of product categories at wholesale prices such as soft toys, silk flowers, event decoration accessories, candle accessories, party supplies, Christmas decorations accessories, and fresh flowers.
They're a good option to buy from if you intend to add some extra flavor to your inventory.
Website: https://www.koch.com.au
Address: Koch & Co Superstore, 80 Adderley Street West, Auburn, NSW 2144
Tel: 1300 555 624
10. Bargain Bunny
Bargain Bunny is an Australian business that specializes in collectibles, gifts, toys, novelty items and a few other interesting items with high quality and affordable prices.
Ever since their incorporation in 2011, they have successfully operated across a number of industries with extensive wholesale and retail services. Although they started as a retailer of plush toy products, they now offer their goods in wholesale via their new "B2B division".
The great thing about this feature is that there is no minimum order quantity, which means you can easily dropship from this site without any worries.
Website: https://bargainbunny.com.au
Tel: 08 7099 2264
Conclusion
So that ends it! We're done with the list of the best wholesalers of plush toys in Australia. These suppliers offer reliable services and have several happy customers. Feel free to explore their websites to see the best option that meets your requirements.
Compare Toy Wholesalers