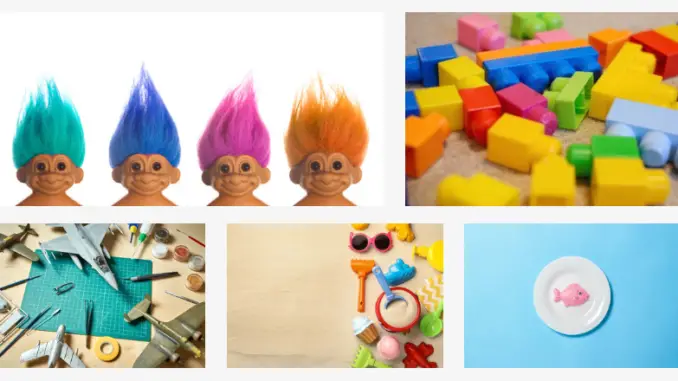 Before world war 2, the toy industry was dominated by German toy manufacturers. Toys were made of wood and metal back then.
With the advent of world war 2, the use of metal for the production of war items led to the scarcity of metals for toy production.
This, plus the idea that wooden toys were considered too heavy for children and metal toys were considered too dangerous or unsafe, led to a sudden transition in raw materials utilized in the manufacture of toys.
Plastic toys were already in vogue in the wake of 1950 and after the war had come to an end. However, the defeat of Germany and their industrial clusters meant someone else had to take their place. And who else was available but the triumphant USA?
Many plastic toy manufacturers in the USA cashed in on the use of plastic. And not long after that, their toys flooded the market.
Best Plastic Toy Manufacturers in the USA
Read on to find out the best plastic toy manufacturers that are based in the United States. Each of them produces awesome plastic toys.
10. Green Toys
Enshrined into their heart is a commitment to use of recycled plastics in the manufacture of toys. This saves the society one gallon of water per day for each toy box manufactured from a plastic milk jug.
Also, one pound of milk jug recycled to produce a toy set reserves enough energy to power a 3000 AAA battery, a TV for three weeks, or a laptop for a month. You can imagine the extent of their impact on the society.  
Green Toys manufacture a host of toys ranging from farm playset to ambulance, doctor's kit, train and recycling truck, house playset, construction playset, school bus, pick-up truck, mini-vehicle set, and race cars.
Website: www.greentoys.com
Related: Top 30 Toy Brands List
09. Make My Toy
Just tell them "make toys for me" or "make my toy" and they obey. This family-owned manufacturer has had clients who are private individuals, non-profits, start-up businesses, and major corporations. Every toy here is completely custom-crafted to a customer's design and specifications. You are welcome to place an order of 500 plastic toys or even more at Make My Toy.
Website: www.makemytoy.com
08. Duncan
For over 85 years, Duncan has been in the business of toy manufacturing. They are one of the manufacturers who went through the metal-to-plastic evolution in the toy industry, so their experience can't be waved aside. Duncan is a master in the game; their commitment to providing companion toys and learning toys for children has kept them relevant in the industry for a long time.
Website: www.yo-yo.com/outdoor-toys
07. Symbiote Studios
Many toy suppliers have one or two toys from Symbiote Studios in their warehouse.
Symbiote Studios' target market is the international market and they actually are a big player there. Based in Seattle, Washington, their manufacturing steam utilizes Poly Vinyl Chloride ( a type of plastic ) in the production of several kinds of toys. They boast of having several collections of plastic Marvel and D.C. heroes in their stores. And even Cartoon Network characters like Rick and Morty.
Symbiote Studios toys have a characteristic feature of having fine details due to their spectacular machineries, fine processing, and hand-painting of toys.
Website: www.symbiotestudios.com
06. Quality Custom Molding (QCM)
Quality Custom Molding makes the rigorous processes of toy design, molding, packaging, and assembly easy with their state-of-the-art facilities. Headquartered in Missouri, they utilize custom plastic blow molding to meet up with the huge demands of their customers.
If you fantasize about thick or thin walls, complex geometries, as well as extraordinary finishing operations, QCM is the manufacturer to go to.
They produce BPA-free plastic children's play items, sporting figures, action heroes, learning tools, and storage compartments using plastics.
Website: www.qualitycustommolding.com
05. Omico
For more than 45 years, Omico has indulged in the manufacture of blow-molded plastic toys and other items for use in the automobile and electronics sectors. They work in synergy with suppliers to offer them products that meet their specifications and aesthetics.
Omico has put a huge emphasis on the safety of their toys as they consider reputation a valuable asset. They ensure to stick to their safety standards by using only EPA approved ingredients and examining during their production phase of any sharp part. All plastic toys manufactured by the company are manufactured using polypropylene, polyethylene or customer's preferred items.
Website: www.omicoplastics.com
04. Pioneer Plastics
Here's a Kentucky-based plastic toy manufacturer. Since 1986, Pioneer Plastics employ the injection molding technique in the manufacture of plastic toys such as Dolls, Bobble Heads, and Beanie Babies. You can also reach out to them for custom plastic toys for which you'll like to be a supplier. You have nothing to worry about the quality of their products because their core values are integrity, continuous improvement, superior service, commitment, client retention, and teamwork.
Website: www.pioneerplastics.com
Related: Top 6 Wooden Toy Manufacturers in the USA
03. American Plastic Toys
They pride themselves in every quality attributed to made in America products; quality, aesthetics, durability, and reputation. With the founding year of 1962, American Plastic Toys Inc. has had all the time to invent exceptional and quality toys. They've successfully put in their leg in the same pants with other manufacturers over the years and through various stages of brilliant innovations. This means that they have joined the big league.
Founded in Walled Lake, Michigan, their toys line has over 125 toys manufactured and assembled in the United States. They manufacture plastic toys such as garden toys, sand toys, snow toys, vehicles and boats, riding toys and wagons, furniture, doll, pails, and shovels.
Website: www.americanplastictoys.com
02. Hasbro
Hasbro partners with leading companies such as Marvel, Power Rangers, Star Wars, Baby Alive, Chomp Squad, Disney Princess, Monopoly, Drop Mix, Easy Bake, Fur Real, The Big Bites, Lock Stars, Littlest Pet Shop, Mighty Mugs, Playskool, Nerf, Nerf Rival, Transformers, Dream Works Trolls, Yellies, Ugly Dolls, Play-Doh, 123 Sesame Street, Nerf Rebel, My Little Pony, Zoops, Lost Kitties, Little Big Bites, Rival Heroes, and many others.
01. Mattel
Mattel has transformed huge plastic toy manufacturing companies such as  Barbie, Fisher-Price, UNO, Polly Pocket, Masters of the Universe, Hot-Wheels, MEGA, Thomas and Friends, American Girl into their subsidiaries. What a world Mattel is.
Located in Los Angeles and founded in New York, Mattel has surely punched above their shoulders given the short time frame. Massively expanding their influence and reach into home markets of rival manufacturers like Nintendo in Japan and Lego in Denmark is another feat of theirs.
Kids are their inspiration, innovation is their watchword. If you're a toy lover, huge chances are that you used one Mattel toy as a child.
Conclusion
There are a lot more American manufacturers who specialize in plastic toy production, yet, the market keeps expanding. For suppliers, competition is a good business because it provides them many options to buy from. These are the finest plastic toy manufacturers in the USA who you can buy from whether you're a toy wholesale supplier, company, organization, or institution.
Compare Toy Manufacturers