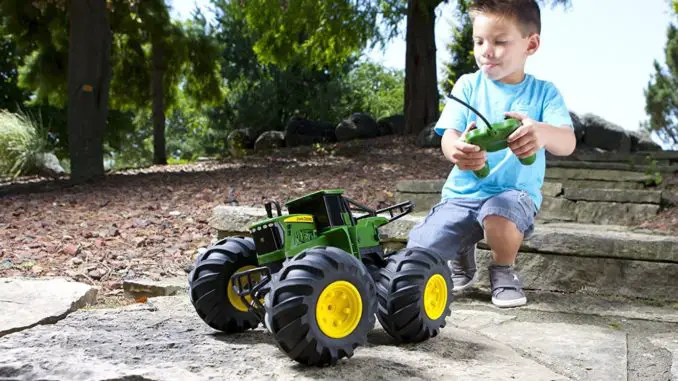 Sometimes, kids want to be in control of what they do.
They want to imitate what adults do and be in charge just like adults. This is a good thing because it is, in some way, a sign of leadership quality.
Giving them realistic toy tractors that allow them to be in control further helps them to develop their skills and apply them in real life activities.
This list of John Deere children tractors will help you choose the right John Deere toy that will impress any kid. They are both educative and entertaining for an imaginative experience.
The list useful whether you plan on getting an imaginative toy for your child, relative, or friend's child. The selected tractors for kids make good gifts during the holidays or seasonal periods.
1. Ground Force Tractor with Trailer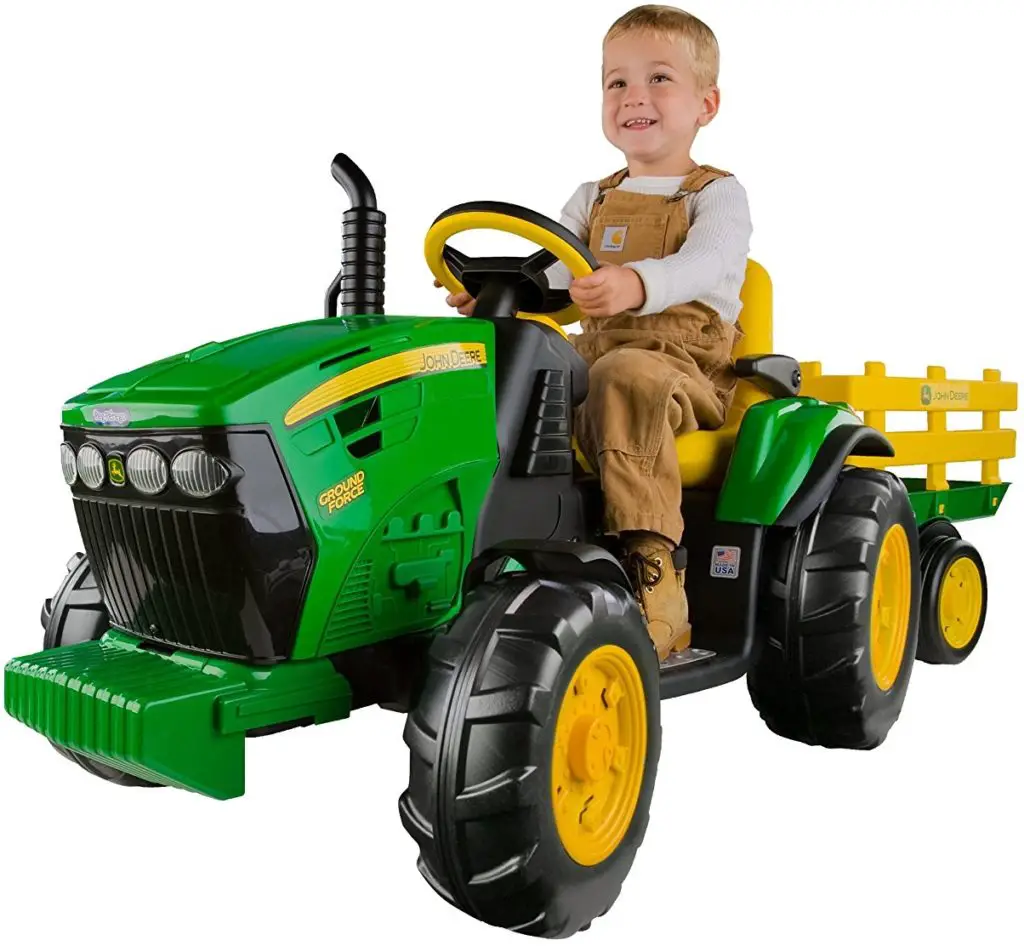 This is a great toy recommended for children of ages 2 to 7 years. It looks so real that your family and friends will give good compliments.
The steering is good and the tractor rides well through dirt; It also has no problem climbing hills.
A great advantage of this John Deere ground force tractor is its impressive durability. It remains strong with the same battery after a long use by a rough kid. Your child won't have a problem with this toy; it's easy to drive around.
It can run well for up to an hour on soft grass and even longer on paved surfaces. Your child can change gears to alter the speed of the tractor.
2. John Deere Tough Tractor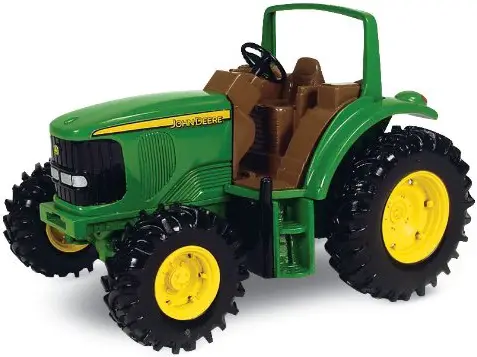 John Deere tough tractor is a well-built quality metal tractor that a child can truly enjoy. It's solid and comes in a nice size for little hands.
This toy is a good choice for anyone looking to get a sturdy toy for a rough kid. The steering moves the front tires and there is a little hole at the back for a hitch. Your little one may just find the hole helpful to pull several things.
It's a quality toy with great details that make it realistic. The body is made of quality metal and not flimsy plastic like some other toys. This quality material makes the toy somewhat heavy.
Related: 11 Durable Diecast Farm Toys & Tractors that Make Perfect Gifts for Kids
3. Sit 'N Scoot Activity Tractor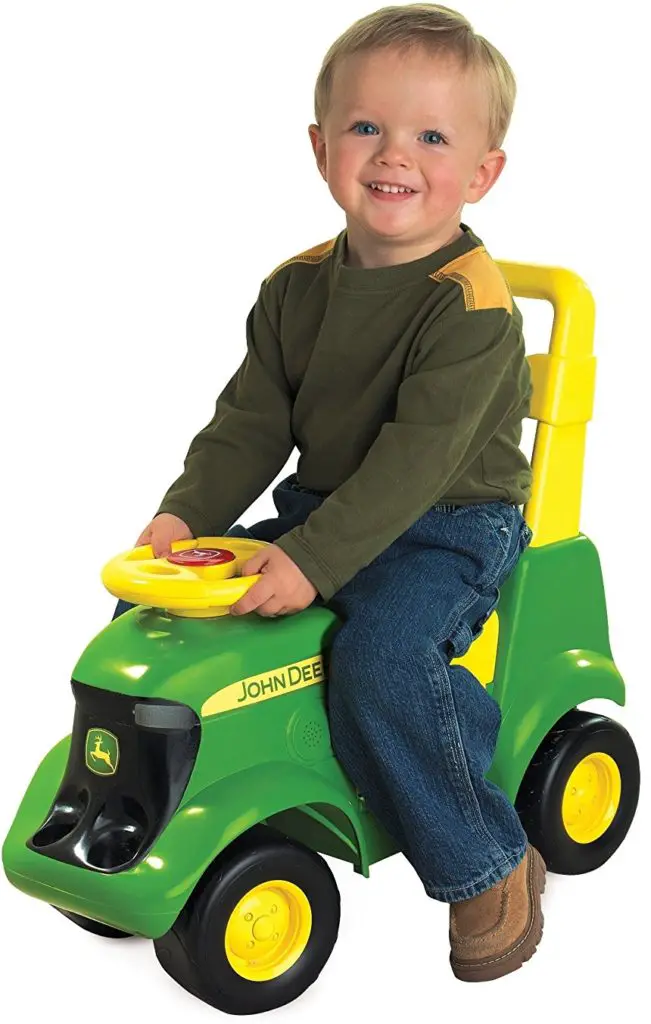 A great toy for helping your little one learn how to walk. Sit 'N Scoot activity tractor works fine on carpets but tends to take off on hardwood floors. The seat can be transformed into a play area for the four little animals that come with the tractor.
Scooting on the tractor is quite easy as long as your child's legs touch the ground while sitting on it. Otherwise, you or someone else would have to push while holding the removable walk-behind bar.
One downside, on my part, is that the steering doesn't control the wheels. Also, the walk-behind bar comes out when you try to lift the toy with it. But this isn't a huge problem since you can hold some other parts for easy lifting from one place to another.
4. Monster Treads Lightning Wheels Tractor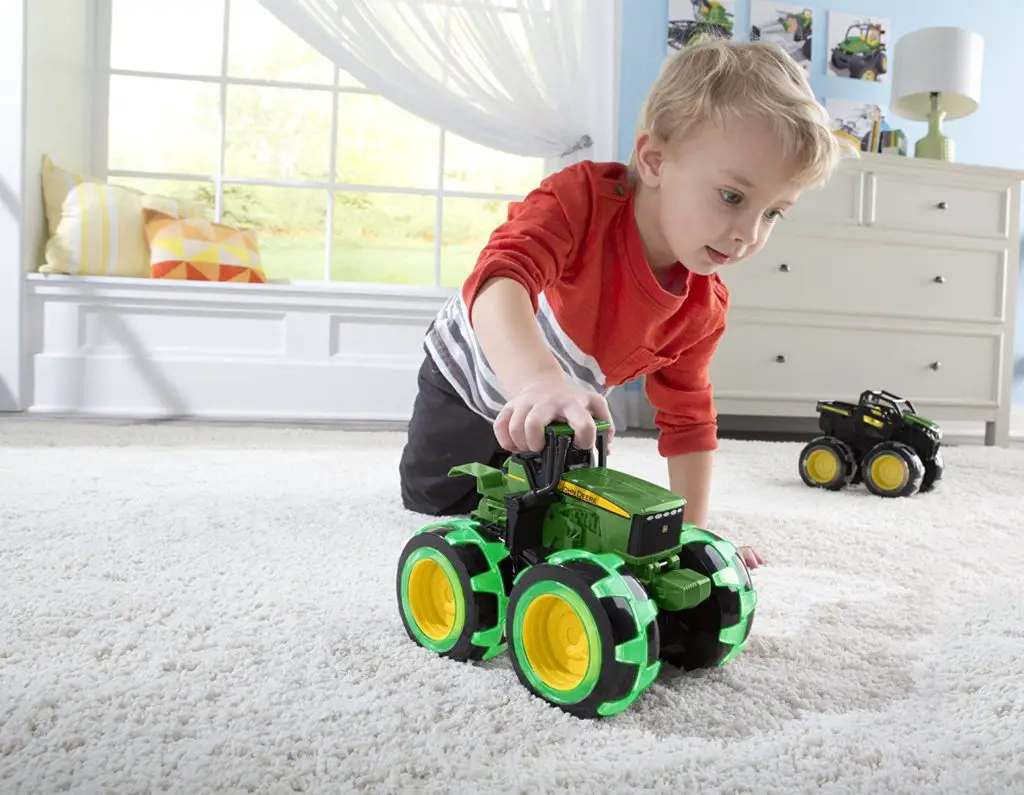 Monster Treads tractor has eye-catching wheels that light up so bright that your kid will always want to play with it. The wheels roll smoothly; this enables the tractor to go far on a small push.
It's quite durable and holds up to a lot of rough and harsh conditions like drops and crashes. The lights still work fine even after so many hours of use.
You have nothing to worry about if sounds from toys irritate you because the tractor isn't sound enabled. It's a great toy for any child that loves playing with farm toys. And will definitely make a good present for your beloved little one.
Related: 11 Best 1/16 Farm Toys Every kid Loves
5. 1:16 Tractor with Lights & Sounds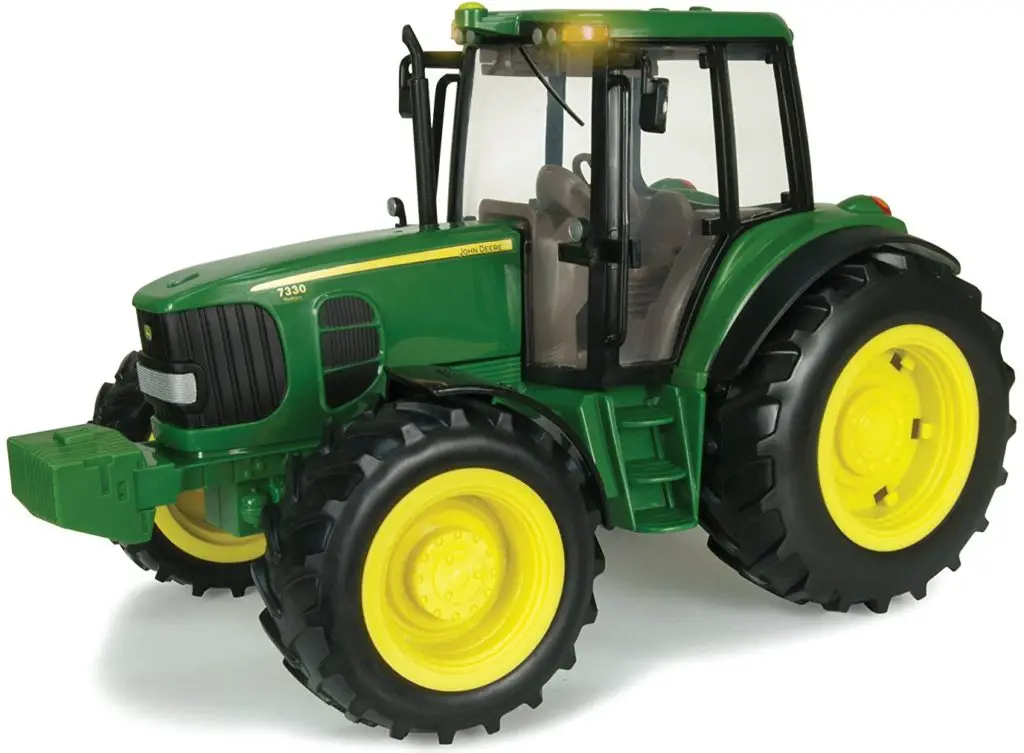 Kids love to play with this toy. It's made of a quality plastic that gives it the durability of a long-lasting toy. The size of the tractor is awesome; a 2-year old kid can stand and push it around and it won't fall because it's also sturdy.
John Deere 1:16 tractor with lights and sounds is realistic and a replica of the real machine. The lights and sounds are complimented with the ability of the steering to move the front wheels. This spikes the interests of kids. The lights and sounds are just the right amount for kids to catch fun and not annoy mum and dad.
The downside is that the wheels may not really stay in a straight line when your kid pushes it from behind. But this can be overcome by taping the struts on the wheel to lock them in place.
6. Monster Treads Tractor with Wagon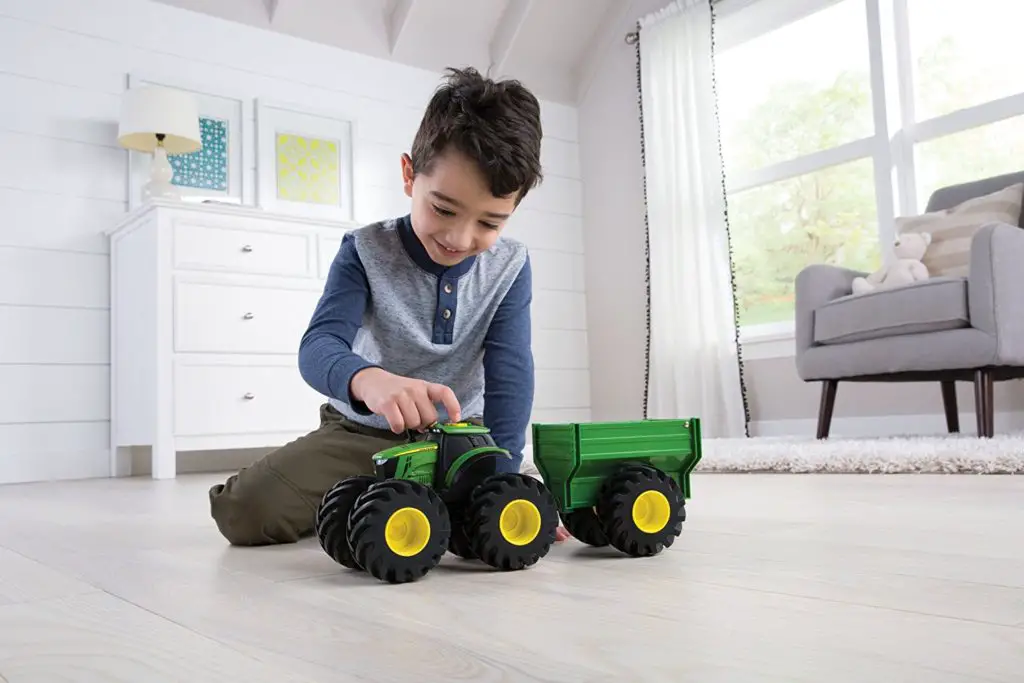 This is an amazing toy that will excite any farm toy loving child from 3 years and above. It's quite sturdy and can survive rough handling. But don't get too comfortable with your kid mishandling it because it's made of plastic and not metal.
It's a realistic tractor and will make a good addition to a collection of farm toys. The tires are soft and cushiony.
The only con here is that the wagon comes off the truck easily in some cases. But this won't stop a smart kid from playing with it since it can be fixed immediately.
Related: 15 Best ERTL Farm Toys for Kids and Toddlers
7. Monster Treads Remote Control Tractor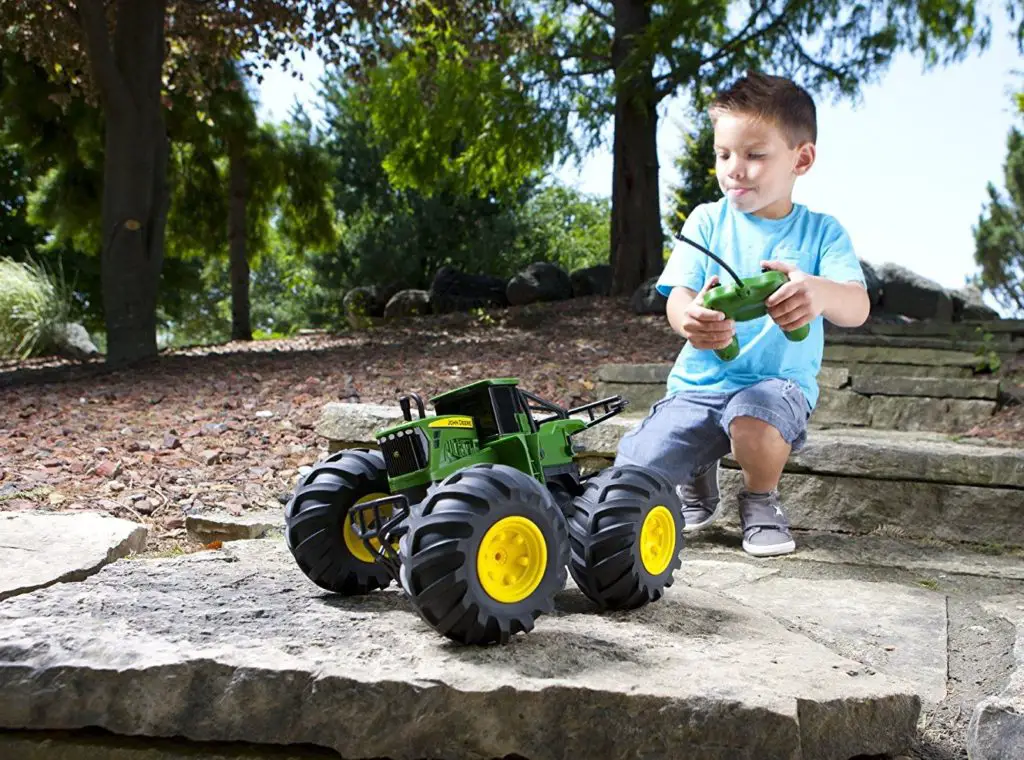 Monster Treads tractor is different from the other tractors on this list because it is remote controlled. The range of the controller shouldn't be a problem unless you want to control the tractor from a far distance.
It's got big tires at the front, but the tractor may not climb over things quite as well as you might expect. It comes with a battery, which is specific to the toy, and a charger to enable your kid get long hours of fun.
A con of the tractor is that it doesn't have a speed control. This means that your child won't be able to alter the speed of the toy. This isn't an issue for kids anyway.
8. Pedal Tractor and Wagon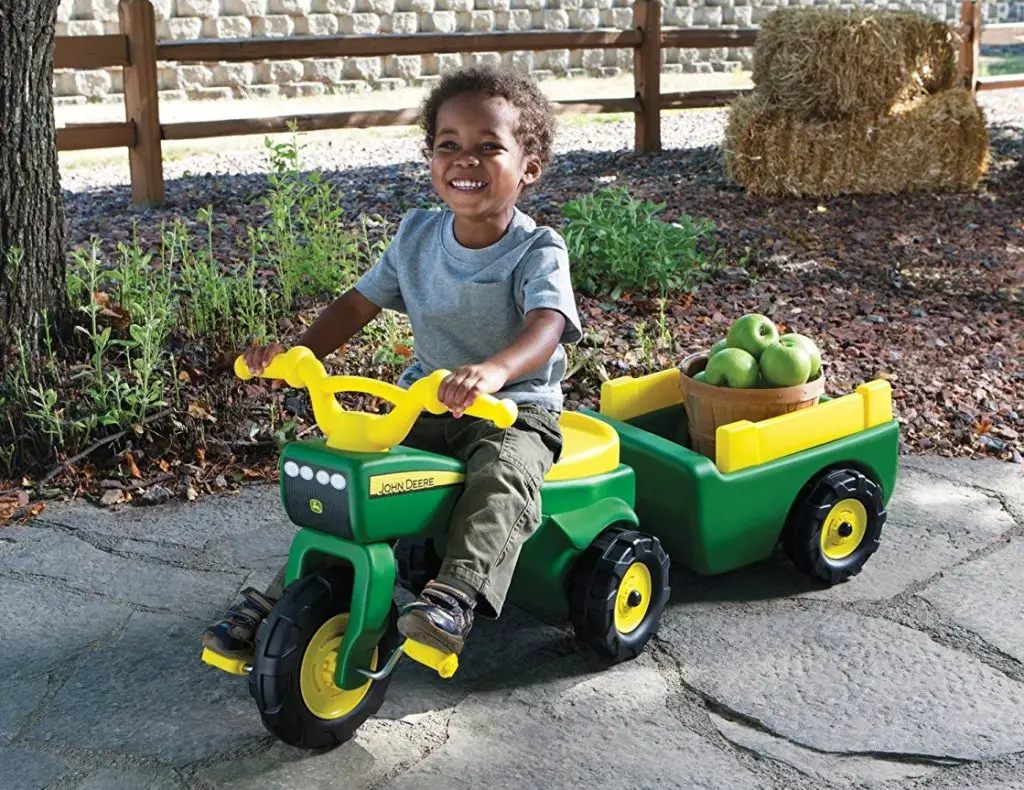 Choose this pedal tractor if your kid loves vehicles with wagons. It's easy to assemble and the connection holding the wagon to the tractor is solid and stays connected.
Your child will enjoy a smooth ride on concrete floors or any hard surface. You may need to wrap a gaffer tape around the front wheel so that it doesn't slip on a tiled floor.
The major issue with this tractor is that the rails of the wagon fall off easily. But that doesn't stop your little farmer from catching fun in any way.
Aside from the fun of riding the tractor, your child can also haul other toys in the wagon. This gives your young farmer the imaginative experience of a realistic toy.
Compare Farm Toys