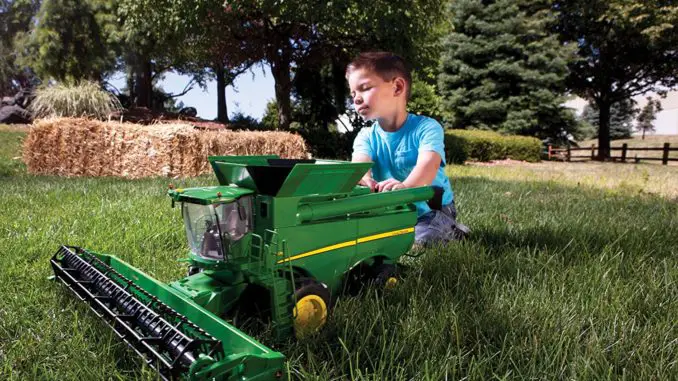 Size matters in bringing imaginations to life when it comes to toys.
Toys are more than just fun for children. They provide an opportunity for them to learn, engage their senses, and encourage them to learn with others.
1:16 scale farm toys allow kids to have an almost real-life experience. It provides them the opportunity to simulate what they see or watch on TV.
This article is a compilation of realistic 1:16 scale farm toys that kids fall in with and play with them for a long time before moving on to other toys.
The list contains Big Farm toys, Ertl farm toys, and John Deere farm toys.
1/16 Farm Toys for Fun
1. Ertl Big Farm 1:16 John Deere Tractor with Lights & Sounds
Kids love to play with this toy. Although it's made of plastic, it's durable and lasts long. The size of the tractor is awesome. A 2-year old kid can stand and push it around and it won't fall because it's also sturdy.
John Deere tractor with lights and sounds is realistic and a replica of the real machine. The lights and sounds are complimented with the ability of the steering to move the front wheels to help spike the interests of kids. This is very cool as the lights and sounds are just the right amount for kids to catch fun and not annoy mum and dad.
The downside is that the wheels may not really stay in a straight line when your kid pushes it from the back. But this can be overcome by putting some tape around the struts on the wheel to lock them in place.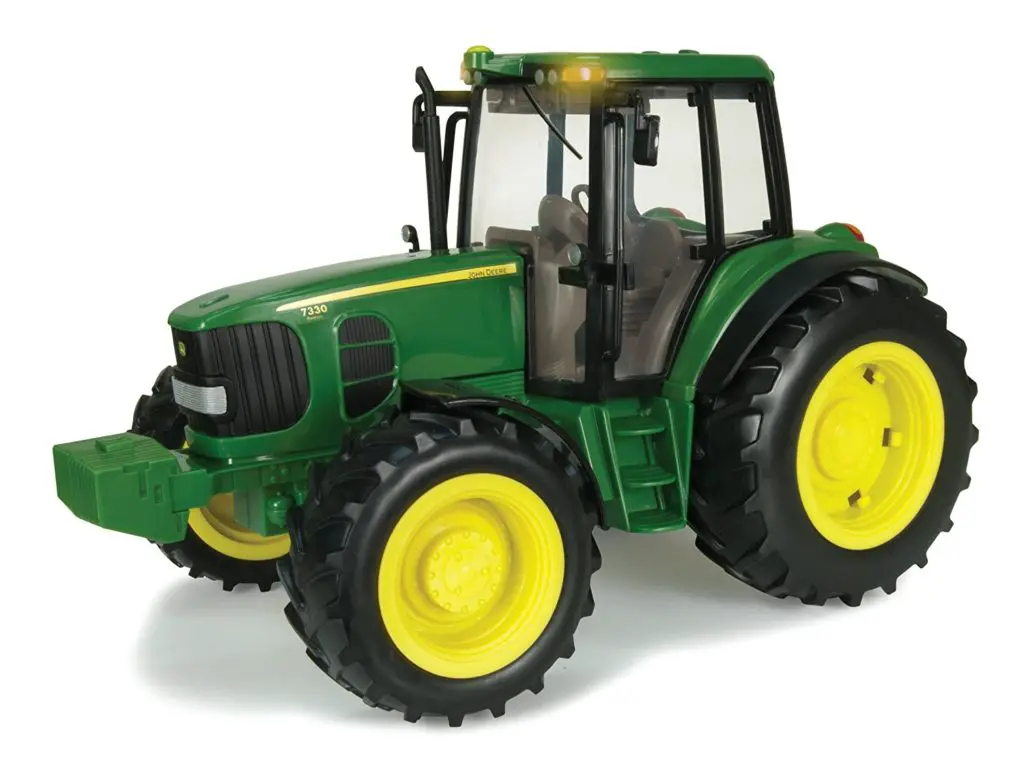 >>>Click here to buy on Amazon.com
2. Ertl Big Farm 1:16 Peterbilt Model 367 with Grain Box
This truck is made of plastic and the detail is fantastic; it's got a lot of functions every farm kid loves. The toy isn't extremely durable but could last longer if your kid isn't too rough. It can be used to move gravel and rocks.
Peterbilt Model 367 is a good choice for kids that want a truck to use for their combine. The toy is huge, sturdy, and the functionalities are awesome. The grain bin opens at the top and rear. The bin can comfortably accommodate other toys. Think the size of a kitten. It also has a good sound effect that will thrill any kid.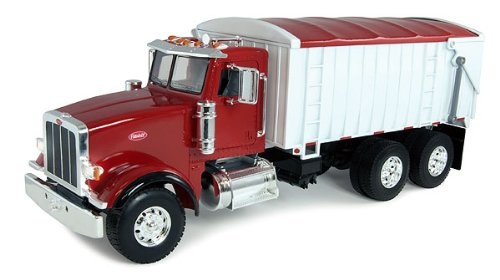 >>Click here to buy on Amazon.com
3. Big Farm John Deere 1:16 4066R Utility Tractor with Loader, Rear Blade and Snowblower
John Deere 4066R utility tractor is a very nice toy for creativity in farm loving kids. It comes in a perfect size with all the parts easy to take apart and put back on. The toy requires AAA batteries to enjoy all its functionalities.
Young farmers will enjoy using the tractor in all four seasons. It features a removable front loader with bucket and pallet fork, a rear blade and snow blower, and lights and sounds for a realistic experience. The utility truck is about 15cm high from the ground level. This size compliments its beautiful appearance.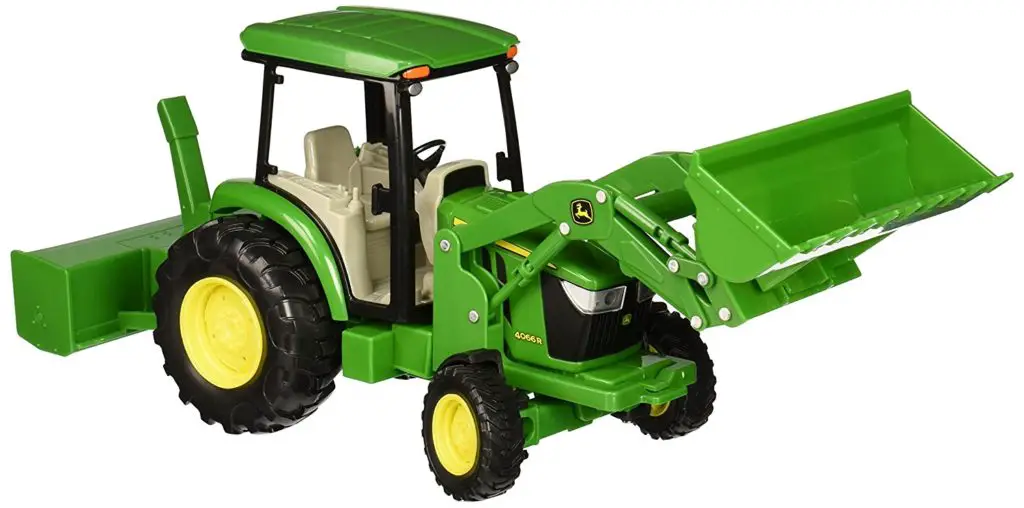 >>Click here to buy on Amazon.com
4. Ertl Big Farm 1:16 Frontier Grain Cart
Big farm frontier grain cart is designed to haul large loads by both carpet and sandbox farmers. The wagon works well with most 1:16 scale tractors but is somewhat larger in comparison.
It has usable functions for both indoor and outdoor fun. It features a rotating working unloading auger, an adjustable jack stand, and a rotating working unloading auger. There is also a hatch at the bottom that opens and closes.
The cart is made of quality plastic for higher durability. Young farmers can also use it to haul farm products to their trucks and move them to the silos or other storage compartments.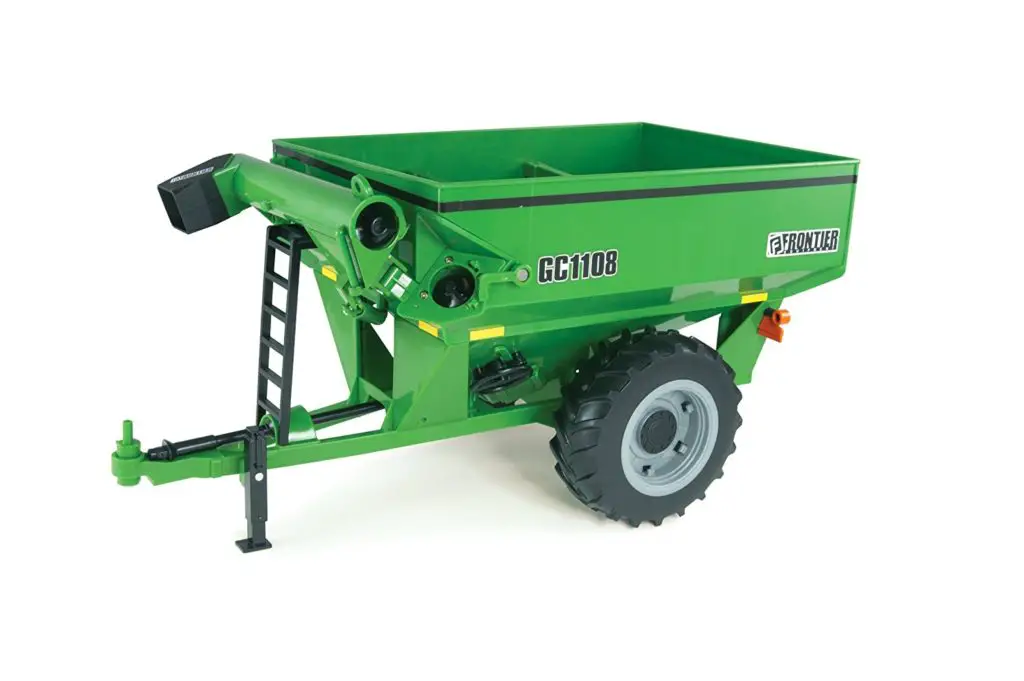 >>Click here to buy on Amazon.com
5. 1/16 Big Farm Truck with Skid Steer
This huge toy measures 32 inches long as a whole but the truck itself is about 11 inches. The skid steer is pegged right behind the truck as shown in the image.
The trailer comes with rear ramps and hitches to pick up.  The skid steer is designed with lights and sounds, interchangeable bucket and pallet forks, and working boom arm. The set also includes four blocks and a pallet.
Big Farm truck with skid steer is compatible with other big farm tractors and implements. It makes a great set to add to any collection of Big Farm toys. It's a fantastic tough and realistic toy for children and collectors alike.

>>Click here to buy on Amazon.com
6. Ertl Big Farm 1:16 John Deere S670 Combine
John Deere S670 combine is huge and will require a lot of space to keep it. The header has a very realistic header. Just in case the header is too heavy for the combine where it raises and lowers, you can keep it in place by placing a small rod underneath it.
Although I don't recommend this for a very rough kid, the combine is well-built and stands up to some rough play. The quality plastic has great details. It's nice choice for combine loving children. Keep in mind that the auger doesn't work on its own. You have to turn it manually.
It is good for both indoor and outdoor play. But make sure you have some space for indoor use because of its huge size. Also, note that it has lights and makes a lot of noise.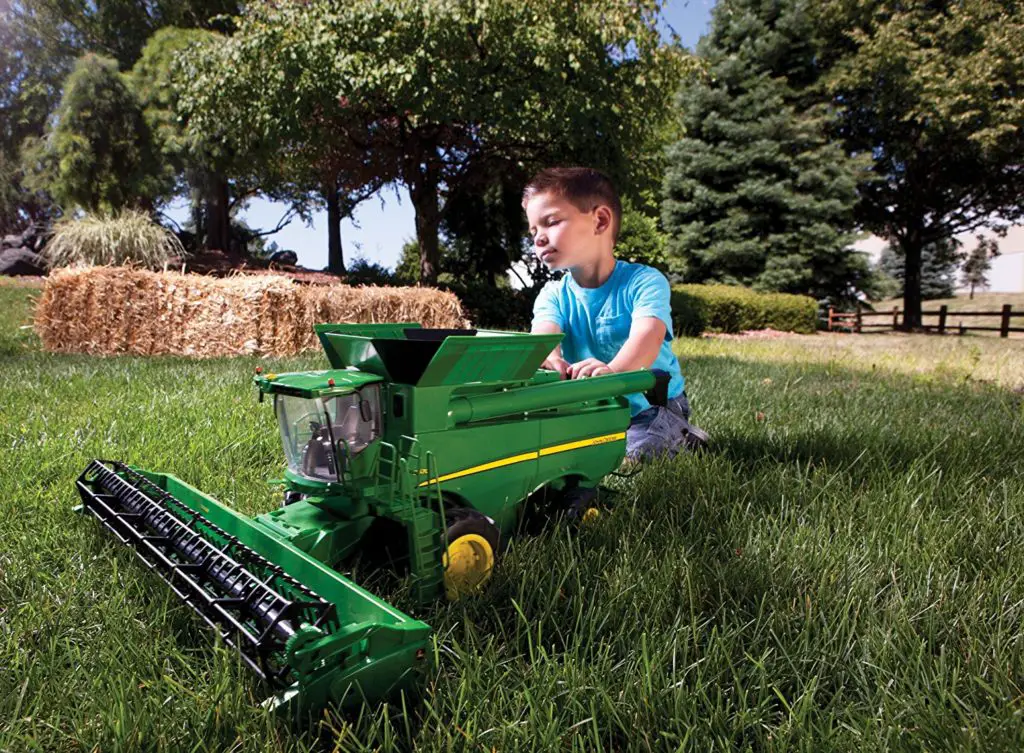 >>Click here to buy on Amazon.com
7. Ertl Big Farm 1:16 John Deere 200Lc Excavator
This isn't the greatest 1:16 scale excavator. It's all made of plastic but not diecast. I don't recommend this toy for any rough child. The parts come off easily. If you, however, have a gentle child who plays gently with toys, they'll definitely catch a lot of fun using this excavator.
The toy is very detailed and realistic just like the real one. It has a movable excavator arm, working tracks, and cab door which opens so that you can put a driver in there. The excavator pivots 360-degrees just like the real thing.
John Deere 200Lc excavator is huge and has a large boom and bucket. It also makes some noise, which may be disturbing. It is big enough that a little kid can sit on it and dig holes like an operator.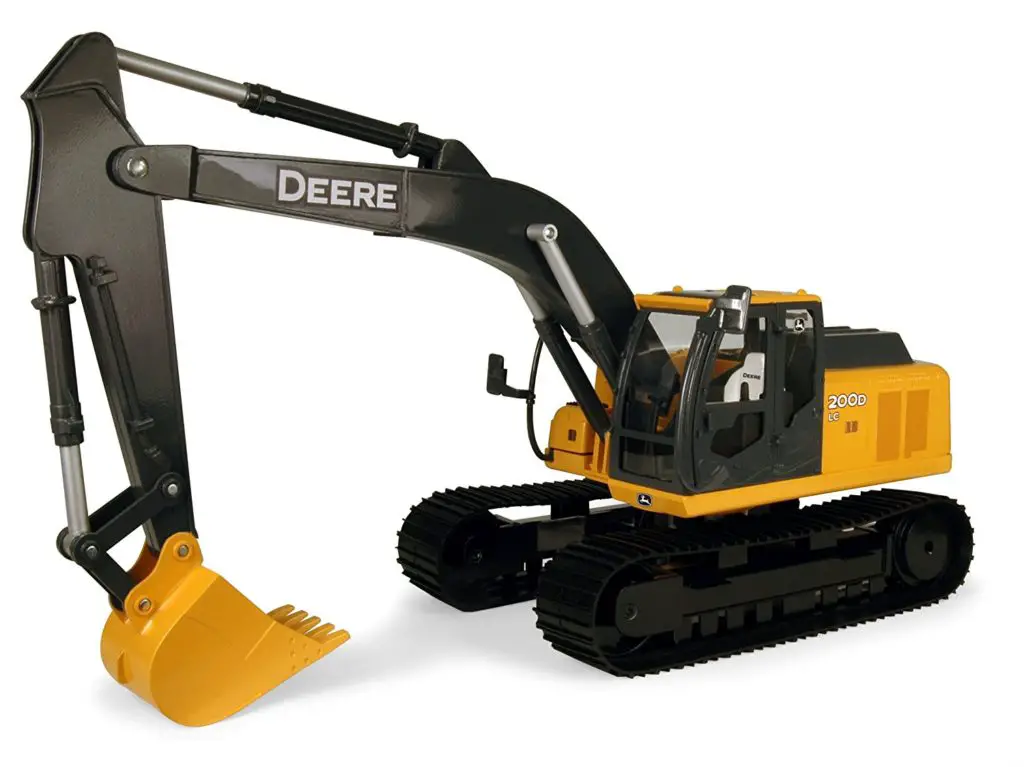 >>Click here to buy on Amazon.com
8. 1:16 Scale Ertl Farmall B Tractor
Farmall B tractor will make a great gift for fathers, grandfathers, fathers-in-law, and husbands. It is a well-built replica of the real thing. It has a diecast body, hitch frame, narrow front, seat, front and rear wheels and soft plastic tires.
It is a good toy to help remind grandfathers of the good old times on the farm. It features a durable diecast construction that appeals to adults. There is a special blue ribbon logo on the sides of the hood and it symbolizes the IH dealer commitment to specialized tractor service.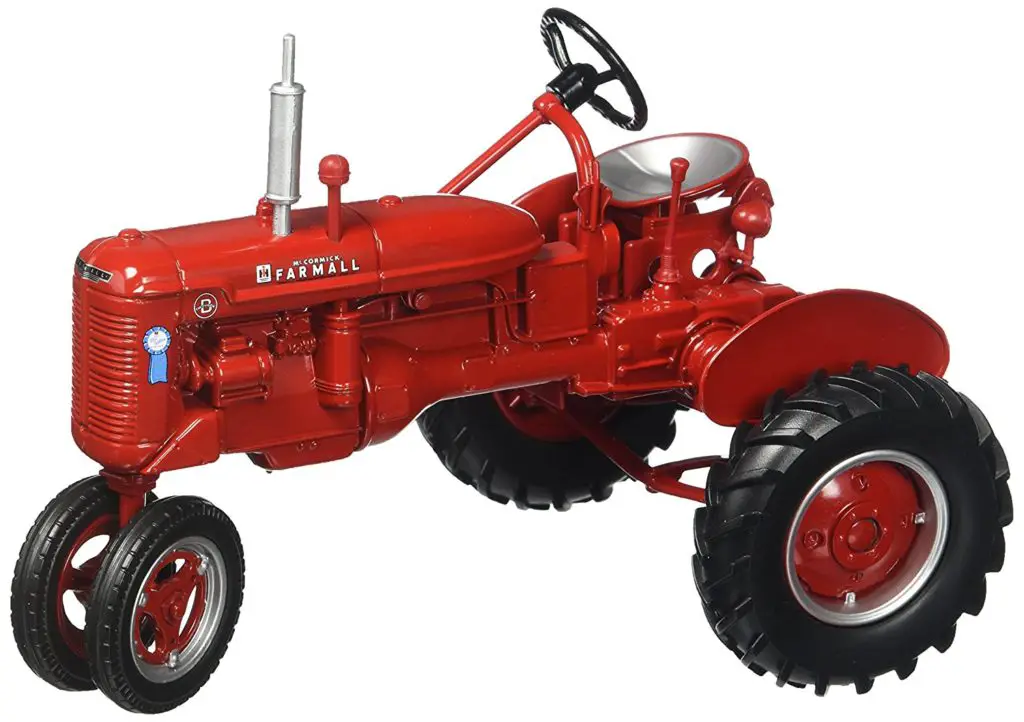 >>Click here to buy on Amazon.com
9. Ertl Big Farm 1:16 New Holland T7050 Tractor with Loader
New Holland T7050 tractor is huge and has enough space inside it where kids can put their cowboy figures to drive around. The tractor makes sounds and lights up on the top. This gives it a more realistic performance.
Although it is made of plastic, it is durable and will hold up for long even when used by a rough child. It has no volume control but the sounds are not too loud to be annoying. It is well-constructed and every detail is perfect.
The tractor is a good choice for indoor use since it's made of plastic; metal may damage things.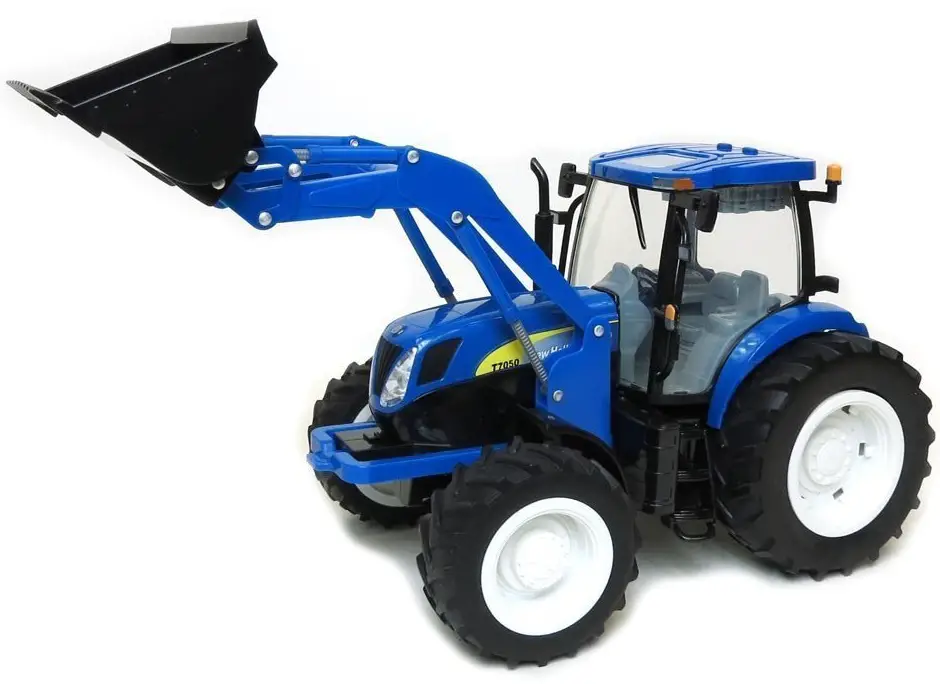 >>Click here to buy on Amazon.com
10. Ertl Big Farm 1:16 Case Sv280 Skid Steer Loader
Don't get this toy if you don't like noise. Except if you really care about your child catching fun. It's super loud just about the real thing. The driver's compartment is spacious and your child may enjoy putting little people in it. It has small parts and a bucket, which can easily come off the front. But this isn't a major problem since you can just pop it back on.
Case Sc280 Skid steer is rugged enough to be used in the sandbox. It is sturdy, won't break easily, and lasts much longer than some other brands. You can make it more fun for your child by building a miniature pallet to be used by the forks that interchange with the bucket.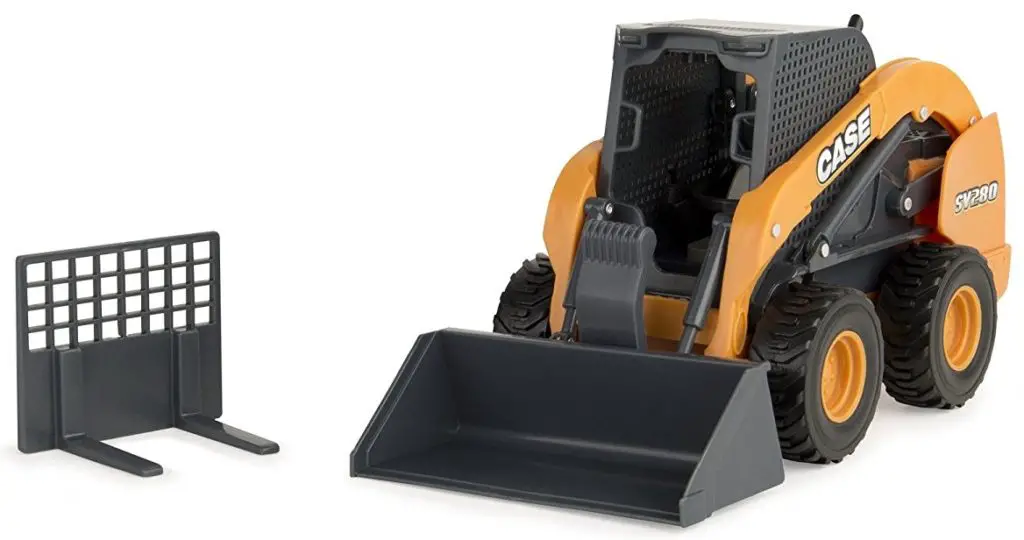 >>Click here to buy on Amazon.com
11. 1:16 Scale Ertl John Deere 1700 Planter
John Deere 1700 planter looks exactly like a real planter. It has the ability to attach to John Deere tractors and other models as well. The appearance is appealing and pleasing to the eye. The toy is durable but you have to be careful with the marking arms on each side because they get knocked off easily.
The way this toy works will amuse your child as it turns and mimics a real planter. It's a great gift for any little farmer who dreams of becoming a great farmer someday. A nice toy to be added to any collection of John Deere toys.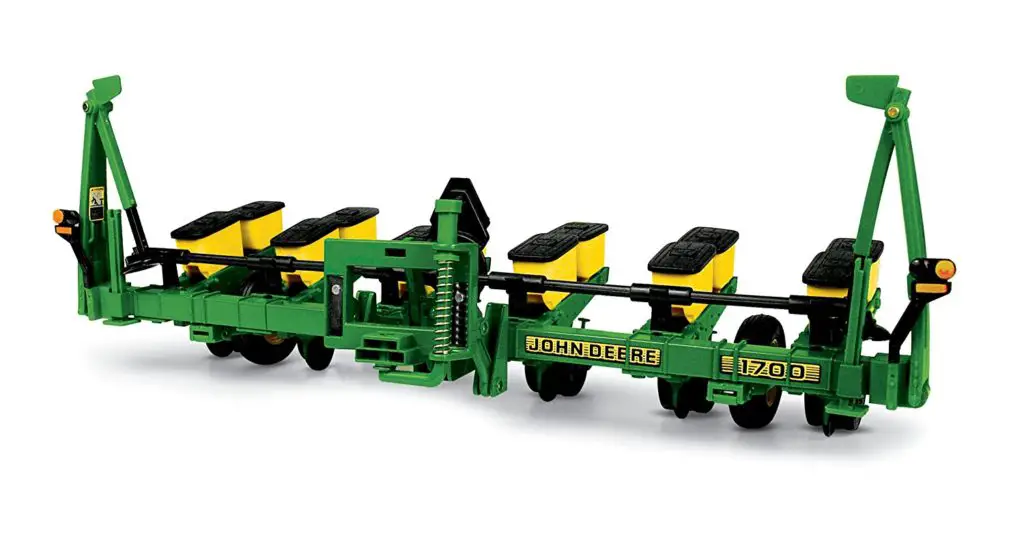 >>Click here to buy on Amazon.com
Compare Farm Toys