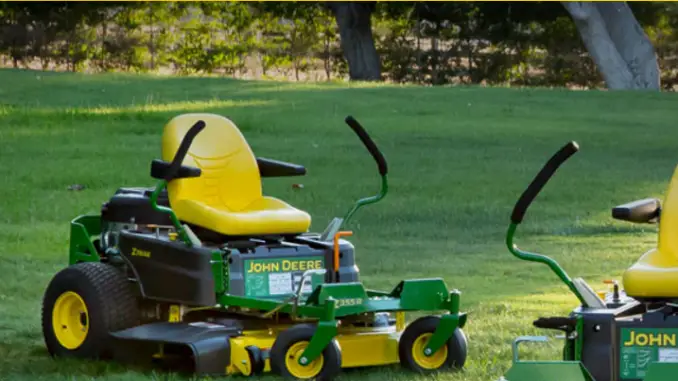 Children can bloom and grow with a selection of unique John Deere toys. They are amused by the creativity and construction of quality farm toys.
They play with farm sets for hours and with passion. This helps them to strengthen their thinking and creativity skills. The best and most common farm toys recommended by moms and dads for kids are John Deere farm toys.
John Deere toys for kids have been in existence for decades. Parents and kids love them because they seemingly give kids an experience of the farm life.
They are a replica of the real John Deere tractors, harvesters, and other machinery found on the farm.
The ratio 1/64 is the commonest scale for farm toys. This scale means that 1 unit on the toy represents 64 units on the actual John Deere machinery.
This size is a good fit for little hands. It makes it easy for them to manipulate and move the toys around as they wish.
Best John Deere Toys for Kids
Here are the best ones your child will fall in love with.
1. John Deere TBE45490 LP53306 W260 MOCO Windrower with 500R Head (1/64 Scale)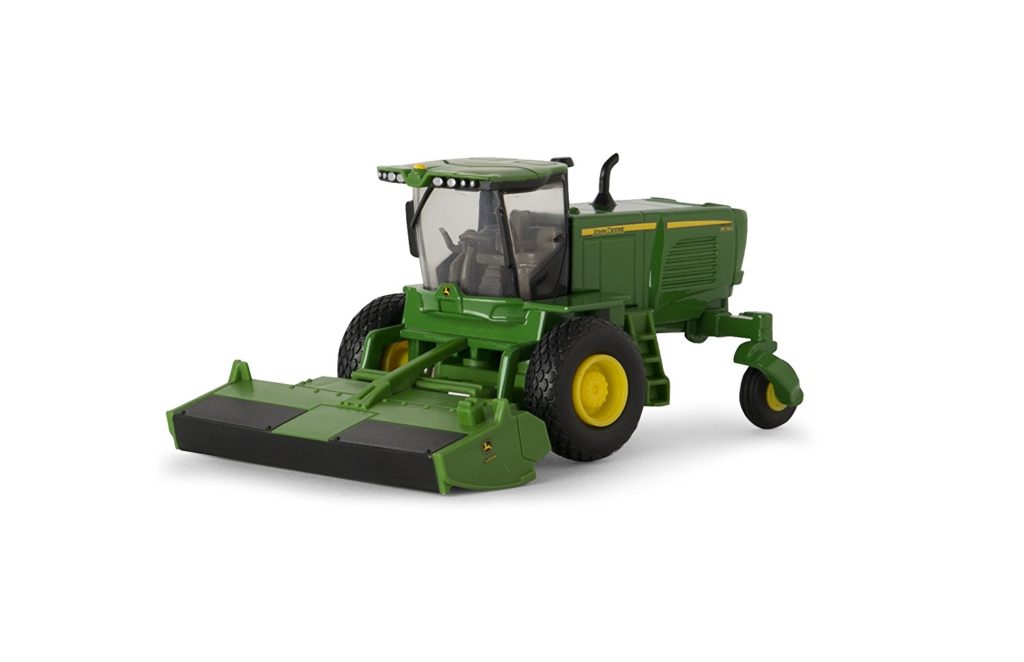 This model is compatible with other 1/64 scale replicas. It is a nice toy with excellent quality and very good detail. The windrower cuts the hay or grain crops to form a windrow. That is, it cuts the hay into a row of cut hay or a row of small grain crops.
The wheel arrangement is quite different than some other tractor models. It has two small wheels aside the big ones. This is a great toy to add to a collection.
Recommended Age: 36 months – 15 years
2. ERTL John Deere Harvesting Set, 1/64 Scale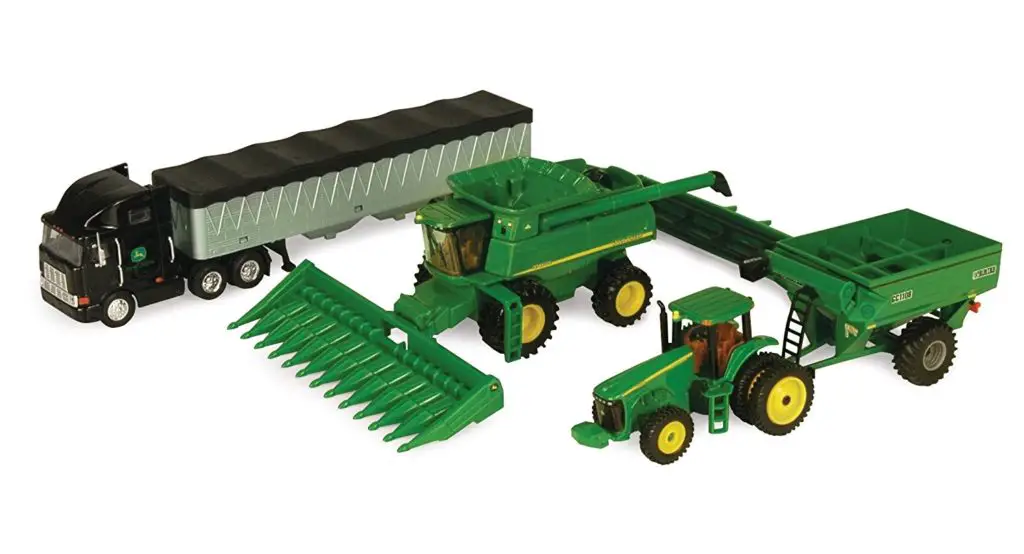 A child-friendly design makes this set suitable for your smart kid. The construction features diecast and durable plastic to make it last longer. It is available in the popular John Deere green and yellow color scheme and the parts are fully functional and realistic.
This well-designed set allows your little one to bring crops from the field, cut the crops, unload into the grain cart, and finally to the semi-tractor trailer which hauls the grain to the town for sale. What a lovely experience for future farmers!
Recommended Age: 8 years and above
3. ERTL John Deere 1770NT Diecast Planter, 1/64-Scale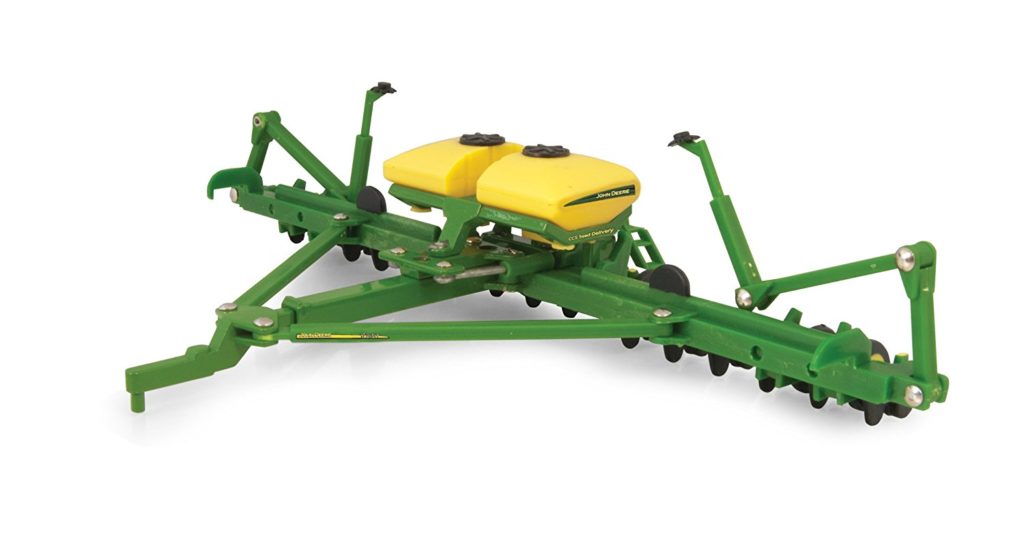 ERTL die-cast planter is a 16-row planter that can easily fit into your pocket.  This beautiful planter features die-cast and plastic construction. It also comes with folding planter wings and hitches to allow for connectivity with most 1/64 scale tractors.
This makes an excellent gift for kids that are bound and determined to be great farmers. It is a high-quality realistic toy with great detail for smart kids. It looks like a real planter. Just smaller.
Recommended age: 36 months – 15 years
4. John Deere 1/64 Scale 320E Skid Steer with Truck
This realistic toy is very durable and will last long even when kids play hard with it. It is beautiful and looks just like the picture.
It is high-quality and well-detailed with a perfect size for little hands. Your young farmer will definitely fall in love with this piece.
John Deere 1/64 320E skid steer features die-cast construction and is compatible with other 1/64 die-cast toys. It has a dimension of 7 x 6.9 x 1.7 inches.
Recommended Age: 13 years and above
5. 1/64 John Deere 20pc. Farm Set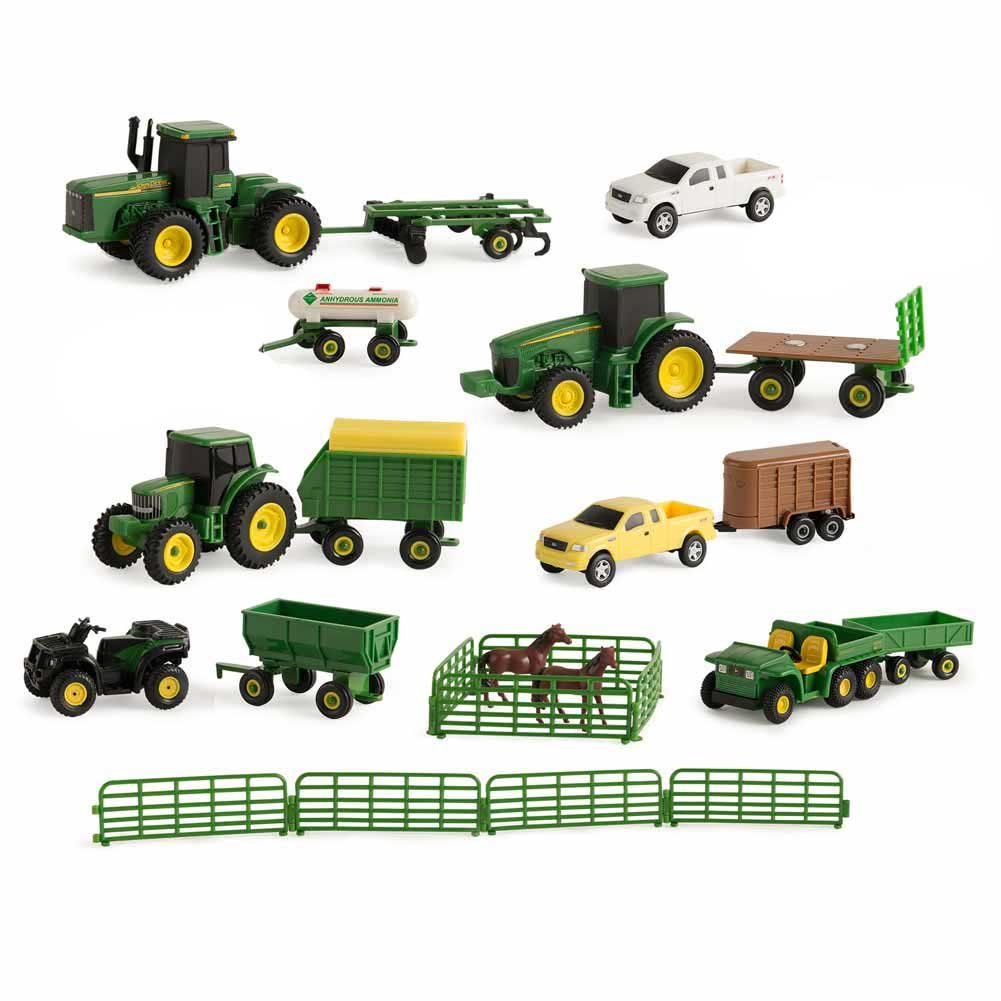 John Deere 20 pieces farm set is made of realistic moving parts and rear hitches to allow for easy implement connectivity. It is an assorted mini vehicle value set that features die-cast chassis.
The tractors are lovely and can easily be moved by kids. The plastics of some of the vehicles are not sufficient enough to keep the wheels.
This set is good for kids. But don't expect the tractors to come in very high-quality. They're better than several others, though.
Recommended Age: 5 years and above
6. John Deere S690 Combine with Tracks 1/64 Scale

This John Deere tractor by ERTL is high-quality and will get your kid excited. It is made with rubber tracks and comes with a 30ft grain head.
It also comes with a 12-row corn head and metal header cart. The tractor has a rear hitch for the header cart. It is a realistic toy that is excellent for kids as it lets them seemingly experience the farmer's life on the barn.
Recommended Age: 13 years and above
7. TOMY International Hesston Haying Set 1/64 Diecast Metal Replica

Haying set die-cast metal replica is a great set with an exceptional performance. This set is beautifully crafted with good detail.
It contains everything your child needs to start haying on the mini farm. It features a proprietary design which makes it an adorable set to add to your child's collection.
Recommended Age: 36 months – 15 years
8. ERTL John Deere with Grain Trailer, 1/64 Scale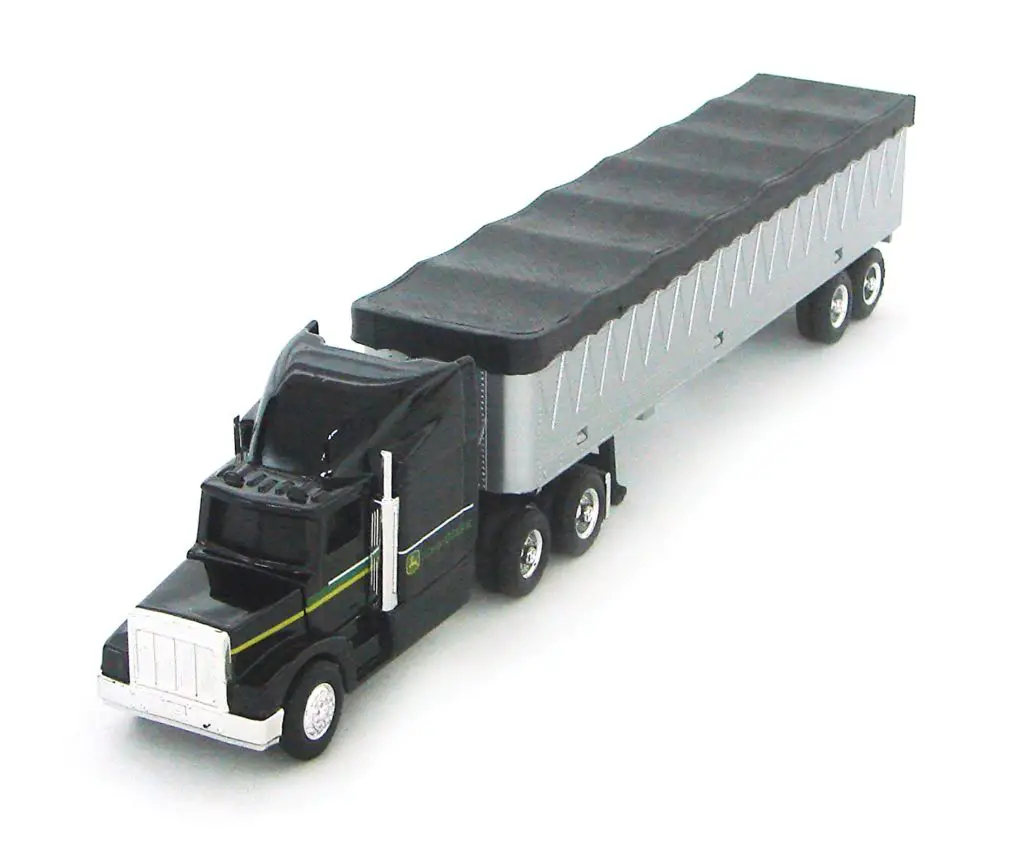 Manufactured by ERTL – the worldwide leader in farm toys – this grain trailer features realistic details, authentic decoration, and diecast parts.
It is an officially licensed farm toy that also sports some important features like free rolling wheels and two-piece wheels and tires.
The metal and plastic components make it durable for long time use. It showcases excellent craftsmanship and is sturdy enough to withhold tough play. The trailer doesn't have pieces that will break off easily. It is a perfect gift for playful kids.
Recommended Age: 8 years and above
9. ERTL John Deere Semi with Backhoe Diecast Loader, 1/64-Scale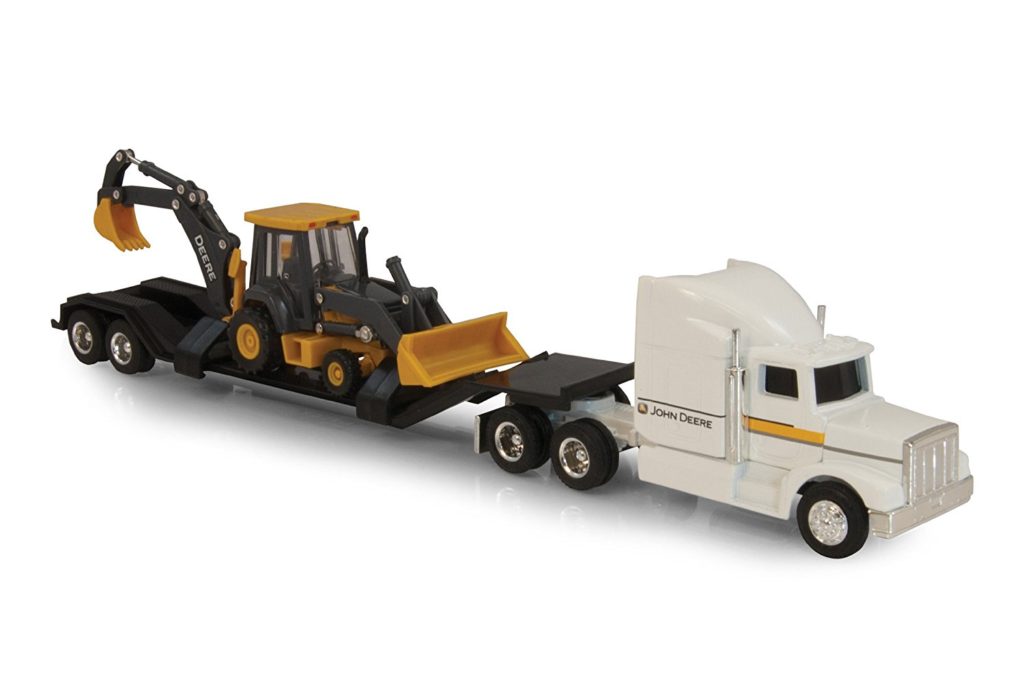 This loader includes drop bed trailer, semi cab, and backhoe. It works well with other 1/64 scale tractors. It is sturdy and well-made.
Your child can use scoops to pick up hay bales. It is a nice combination that is a bit larger than matchbox vehicles. Moms love the quality of ERTL farm toys.
Recommended Age: 36 months – 15 years
10. ERTL Collectibles John Deere 7780 Forage Harvester (1/64 Scale)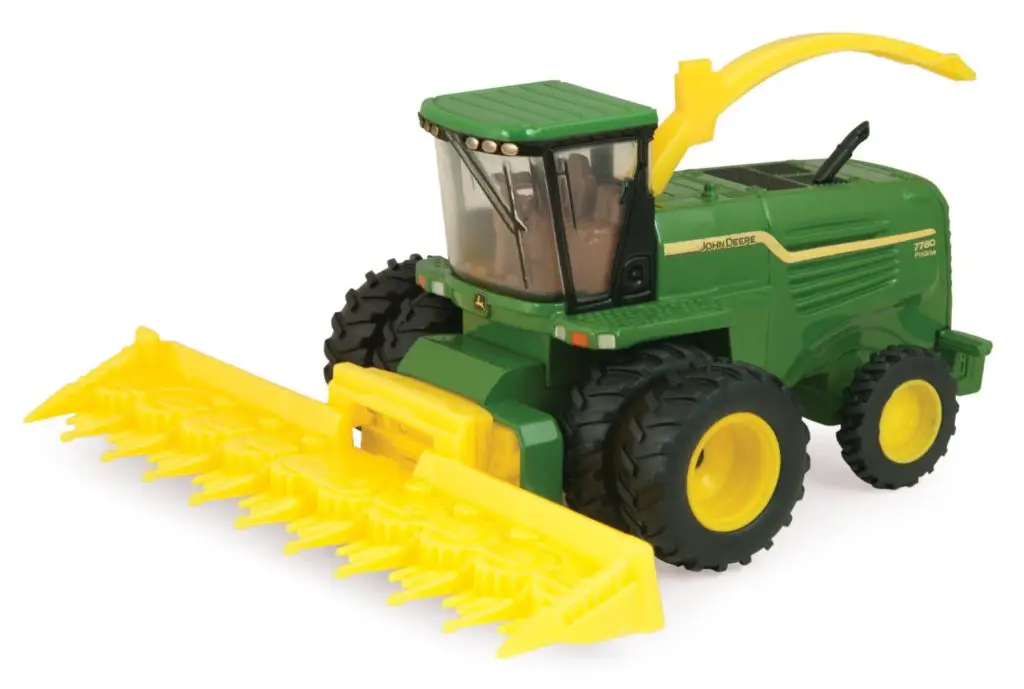 This is like a real harvester. The only difference is that it is smaller. It has an authentic decoration with a removable front head and swiveling auger just like the real harvester.
It comes with two-piece wheels and tires for easy mobility. This is a perfect piece and is excellent for kids that are bound to become great farmers.
Recommended Age: 36 months – 15 years
Compare Farm Toys