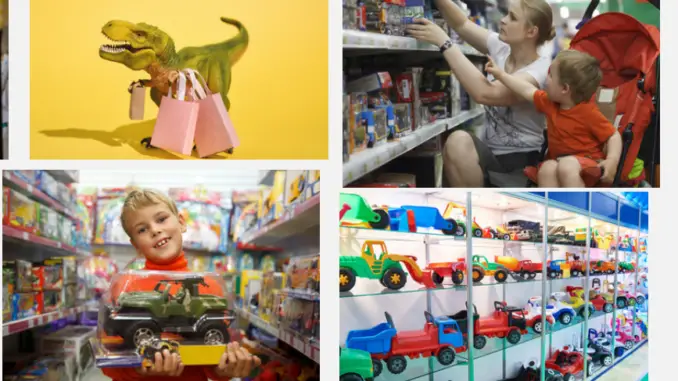 For most of us, farm toys are part of our childhood story.
Children still love farm toys even in the 21st century. It's good to know that new models are frequently made available on the market.
Gone are days when you have to go from one farm toys store to another searching for a particular model and still won't find it.
Personally, I either get a farm toy online or check out the farm toys stores near me.
This article contains a list of carefully selected farm toys outlets where you can place an order for any scale, brand, or model and get them delivered to you in any part of the world.
List of Farm Toys Outlets
1. The Farm Toys Store
This is a family store that was established as a result of the passion for farm toys. The founder has always been amazed by Britain scale farm toys since the 70's when he was a boy. They stock up their store with Bruder and Britain big farm toys and endeavor to update their stock regularly.
Their usual delivery option is Hermes, which takes 3 to 5 days. But you can opt for UPS express delivery if you need faster delivery.
2. Farm Toys Online
Farm Toys Online is a UK based farm toy store. They offer a wide variety of farm toys for sale. Their story hovers around their decision to create a perfect farm toy shop instead of moving from one shop to another in search of farm toys for their kids.
The store was created in 2008 and has since been providing high-quality farm toys to customers. Today, they are bigger and better than ever.
3. Farm Toys for Fun
This is one of the oldest farm toy stores around. They have been in operation for 30 years before a couple, Trevin and Beth Greene, acquired it in 2014. The couples operate out of their home and are both in charge of the whole process of receiving and delivering orders.
They easily deliver to any part of the world by partnering with UPS and FedEx to make sure that items get to customers.
They stock over 1500 1/64 scale farm toys of various brands. When you place an order for any item they don't have in stock, they try their possible best to get it for you. It is a great place to get hard-to-find farm toys.
Update: This store has been sold to new owners
Website: https://www.farmtoysforfun.com
Phone: (319) 550-0661
Email: sales@farmtoysforfun.com
Address: Farm Toys for Fun, 429 Wildflower Dr, Fairfax, IA 52228, USA
Related: Top 30 Toy Brands in the World
4. Outback Toy Store
Outback Toy Store is a well-organized farm toy store with a number of employees. Their store is structured into 4 different teams; the corporate office team, sales team, showroom team, and warehouse team.
The corporate team consists of 6 managers and leaders while the sales team comprises 4 sales specialists. The showroom and warehouse team consists of 3 and 5 managers and associates respectively.
5. The 64 Farm Toy Store
This is a family-owned business. They have over a decade of experience in the farm toys business and operate out of their home. They initially stocked all kinds of scale but now focus on the 1/64 scale only. The major brands they offer are Ertl and Spec Cast.
The 64 Farm Toy Store plans to create a farm toy locator platform in the future. If the platform becomes a success, you'll be able to post any hard-to-find farm toy and they'll try their possible best to find it for you.
Website: https://the64farmtoystore.com
Phone: (262)-7490252
Email: sales@the64farmtoystore.com
Address: N2020 Cty Rd H Lot 616 Lake Geneva, WI 53147, USA
6. Action Farm Toys
This is another family-owned farm toy store situated in Montana. The owners started the business out of their love for collecting farm toys. The store, which focuses on farm tractors and collectibles, was established in 1986.
They started as a window display store but have expanded to a retail store with a collection of about 4000 farm and collection toys.  
Website: https://actionfarmtoys.com
Phone: 406-651-8199
Email: lisap@actionfarmtoys.com
Address: 2274 SE Shiloh Rd., Billings MT 59106, USA
Related: List of Britain's Farm Toys Collectors
7. Dalton's Farm Toys
Dalton's Farm Toys specializes in 1/64 farm toys. They have an inventory of over 2,400 farm toys with the picture of each one readily available. This store is one of the best places to find out-of-production farm toys.
Even though they specialize in 1/64 farm animal toys, they offer high-quality ones of other scales. Feel free to get in touch with them if you don't find the particular type you desire on their website; they may go extra miles to get it for you.
Website: https://daltonsfarmtoys.com
Phone: (641) 521-4715
Email: mail@daltonsfarmtoys.com
Address: Dalton's Farm Toys, 924 E 8th St N, Newton, IA 50208, USA
8. Ag Farm Toys
This store focuses on die-cast farm toys collectibles among others. They have been in business for over 10 years, offering various scales of farm toys including 1/8, 1/16, 1/64, and 1/87 scales.
They have over 3000 toys in their collection and update their inventory averagely every week. They have a user-friendly website that allows payment via various methods.
Website: https://www.agfarmtoys.com
Phone: 563-423-5128
Email: agfarmtoys.com@agfarmtoys.com
Address: Ag Farm Toys, 811 Gunder Estates Blvd, Clermont, IA, 52135, USA
9. Angotti's Farm Toys
Angotti's Farm Toys is one of the go-to places for custom farm toys. They also offer new-in-the-box farm toys of both older models and new production. They have a selection of 1/64 scale farm toys from different brands.
Their custom farm toys take 4 to 6 weeks to get to customers. So, if you need a custom one for your kid by a particular period, you should contact them to ascertain the possibility of getting it delivered within the period. It's good to know that they ship anywhere in the world.
Related: 8 Durable John Deere Tractors for Kids
10. Moore's Farm Toys
Moore's Farm Toys is both a farm toy manufacturer and store. Their products are 100% American. The owner of the store started collecting farm toys in 1974.
The store offers custom and scratch-built farm toys to their customers. They also sell in bulk (wholesale) to toy dealers in the USA, Canada, and overseas. Don't hesitate to contact them for your unique custom farm toys specifications.
Website: http://www.mooresfarmtoys.com
Phone: 740-754-6248
Email: contact@mooresfarmtoys.com
Address: Moore's Farm Toys, 3695 Raiders Road, Dresden, OH 43821 USA
Compare Toy Stores & Brands