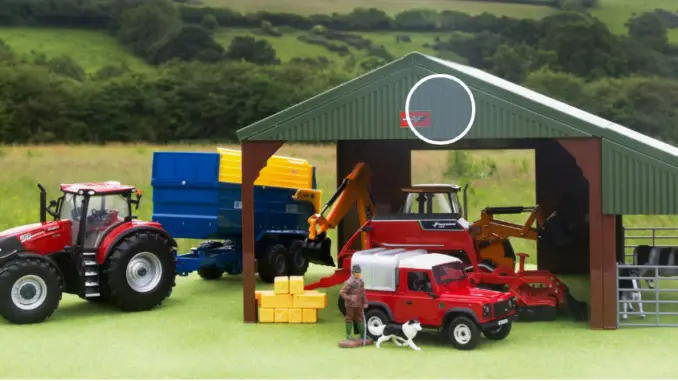 Britains farm toys have been around for several years than many can remember.
Many parents (and grandparents) used Britain farm models while they were kids and now, they prefer the toys than others for their kids.
They are arguably one of the most common farm models in the UK and several other places around the world. The toys are loved for their durability and playability. And have become the first choice for Britain farm toys collectors, fanatics, and enthusiasts.
A Brief History of Britains Farm Toys
Britains farm models were first manufactured in 1893 with lead toy soldiers being the first production. The brand was founded in the United Kingdom. Their head office was initially situated in London but was later moved to the Far East in the 1960s as a result of high production costs.
The 1:32 scale was the first standard scale chosen for the soldier toys. As time passed on, the range of toys was expanded to include implements and attachments. These additions were compatible with other Britain and non-Britain models of the same scale.
Best Britains Farm Toys Collectors
1 Leeds Model Centre
Leeds Model Centre is a dedicated collector. They have been around for over 25 years and collect toys ranging from Britain farm toys to diecast models. They collect anywhere in the world and promise to pay more than you can get at auction. Their website is simple and created just for this purpose.
2 Wonderland Models
Wonderland Toys Limited is a registered company that was founded over 46 years ago. Their experience in toy marketing makes them one of the best collectors in the world. At Wonderland Models, you'll find a range of Britain farm toys including radio controlled tractors, diecast tractors, construction vehicles, big farm toys, construction farm toys, and many more.
3 The Farm Toy Store
This store stocks a full range of 1:32 scale diecast Britain farm toys and 1:16 scale Britain Big Farm farming toys. They have a very functional website where they display their inventory. Purchasing your favorite toys won't be a problem because they have many payment options that you can choose from.
Related: 15 Best Ertl Farm Toys for Kids
4 Farm Toys Online
Farm Toys Online is a major collector of Britain farm toys and they stock quite a range of 1:32 and 1:16 scales. Their website is user-friendly and allows easy purchase online. Unfortunately, this store does not ship to all parts of the world. They only ship to a limited number of areas outside the UK. North America is particularly blacklisted on their list because of the litigation laws over there.
5 Pocket Farming
This is a customer-focused store that specializes in providing various scales of farm toys to farm model collectors. Aside from Britain models, they also stock Universal Hobbies, Wiking, Siku, and several other brands.
The store was founded in 2014 with the aim of creating a satisfactory farm toy hub for farm model enthusiasts.
6 Howleys Toys
Howleys Toys is a family-owned shop that was established in the 1980s. They have over 30 years of experience providing toys for kids of all ages. Their collection of Britain farm toys include vehicles, implements, tractors, animals, and big farm toys.
Their website is designed for easy use and purchase online. It also showcases educational, outdoor, and preschool toys among others.
Related: Top 7 Realistic Animal Toys Set Children Love
7 Little Farmyard
This store offers farm toys at competitive prices and still offer discounts to their customers who make a purchase in bulk. They offer various brands of Britain farm toys ranging from John Deere to NC and JCB. If you have any difficulty whatsoever in making payments on their website, feel free to get in touch with them; they accept payments over the phone.
8 Preloved
This is a classified ads website where you can buy or sell anything. There are a number of Britain farm toys collectors on this site who offer their farm models for sale. You'll be amazed at the rare gems you'll find on this site. Some sellers even offer rare toys that are out of production. It's a place worth checking out for rare models.
9 Collector Models
This is an Australian based registered business. Collector Models is a family-owned store that aims to satisfy customers by providing high-quality products and a high standard of service. Their models of farm toys range from trailers to hay bales, farm animals, and tractors. They also offer a wide variety of toys on their website.
Related: Best 1:16 Farm toys for Children
10 G & M Farm Models
G & M Farm Models stocks a wide variety of farm toys. Their Britain farm toys are majorly 1:32 scale models. They buy and also sell models. So, you can sell your collection to them if you have that in mind. They are a member of the International List of Scale Model.
Unlike other stores on this list, you have to contact them to get the full payment details (including postage cost) before you place your orders.
11 Scale Farm
They collect Britain farm toys and models of various agricultural brands. Some of the brands include Land Rover, JCB, New Holland, John Deere, and Massey Ferguson. Their website is user-friendly with the availability of online payment. The category of Britain farm toys they offer includes farm vehicles, farmyard figures, trailers, and construction models.
Compare Toy Collectors & Brands