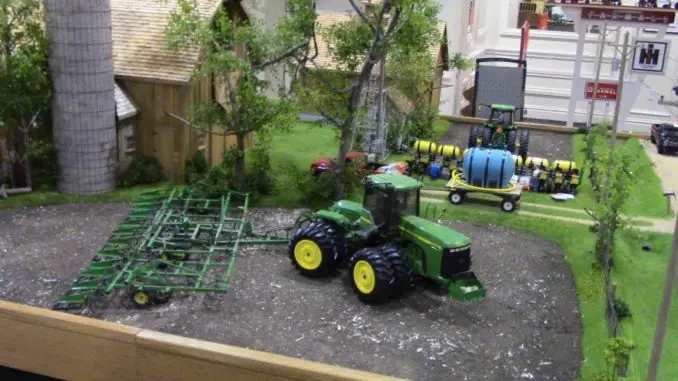 Iowa is arguably the capital of farm toys. In fact, it is the home of farm toys.
It hosts the National Farm Toy Museum that receives over 30,000 visitors every year.
Iowa has quite a number of stores where you can get a large collection of farm toys. If you're looking for custom, hard to get, or out of production farm toys, Iowa is the right place to begin your search.
Farm Toy Stores in Iowa
This list is a compilation of the best farm toy stores you can find in Iowa. An overview of each store is included alongside their contact details to make it easy for you to get in touch with any store you'd love to get your toys from.
1 National Farm Toy Museum
National Farm Toy Museum is a farm toy home that harbors a large collection of toys based on agriculture and farm equipment. They display several scales and replicas to tens of thousands of guests that visit the museum annually. 
The museum, which was founded in 1986, was established as a result of the requirement for a bigger space to hold the National Farm Toy Show.
The museum is where the annual Summer Farm Toy Show and the National Farm Toy Show hold every June and November.
Website: https://www.nationalfarmtoymuseum.com
Email: farmtoys@dyersville.com
Phone: 563-875-2727, IA 52042
Address: 1110 16th Avenue Court SE, Dyersville
2 Le Mars Toy Store
This is a beautiful place to be. It's a diversified store with a collection of farm toys.  At Le Mars, you'll find different scales ranging from 1/8 to 1/16, 1/32, and 1/64.
They also offer custom toys to individuals who want unique designs; they're priced according to their details.
This store has a few workers that attend to customers and help them find what they're looking in the store.
Website: https://www.lemarstoystore.com
Email: lemarstoystore@gmail.com
Phone: (712) 546-4305
Address: Le Mars Toy Store, 30 Plymouth St. SW, Le Mars, Iowa 51031
Related: 10 Best Farm Toys Stores in the World
3 Ag Farm Toys
This store has a collection of over 3000 farm toys, construction models, and pedal tractors. They are very knowledgeable about the desired demands of customers and stock their store with great selections available at awesome prices.
Ag Farm Toys specialize in the sale of diecast collectibles including farm toys, Britain toy soldiers, and construction replicas. It is a family-owned business that offers several brands of farm toys ranging from Ertl to John Deere and Case IH.
Their store contains models and scales that are not displayed on the website.
Website: https://www.agfarmtoys.com
Phone: 563-423-5128
Address: Iowa Diecast Toys LLC, DBA Ag Farm Toys, 811 Gunder Estates Blvd, Clermont, IA 52135 US
4 Bossen Implement
Bossen Implement is a farm toy equipment store that started as a hobby and expanded to a large store with a number of employees. The store was fully established in 1990 by Kate Bossen who has been the CEO till date.
To serve customers well, Bossen Implement stocks farm toys and collectibles comprising First Gear, Siku, Norscott, Universal Hobbies, Ertl, and Britain products. In addition, they offer custom and out of production toys.
Website: https://www.bossenimp.com
Email: sales@ bossenimp.com
Phone: (563) 924-2880
Address: Bossen Implement, Inc., Hwy 187 South, 300 Washburn Ave., Lamont, IA 50650
5 D&C Farm Toys
D&C Farm Toys is an old store that has been around since 1985. They specialize in farm toys and custom trucks. They are experienced in attending farm toys shows and have done over 100 shows since the commencement of operation.
Some of the shows they attend are Hutchinson Toy Show, National Farm Toy Show, and Fairmont Toy Show. They update their itinery on their website displaying the shows they'll be attending in the next few months.
Website: http://www.dcfarmtoys.com
Email: dean@dctoytrucks.com
Phone: 712-262-5503
Address: 514 2nd Avenue West, P.O. Box 134, Spencer, IA 51301
Related: Top 11 Britains Farm Toys Collectors
6 Matsen Miniature Farms
This is a farm toy manufacturer that has been in business for about four decades. They manufacture and offer custom farm toys for sale.
Doing business with this company is quite simple. Contact them on the phone or via email to reach an agreement and decide the next line of action. They carry out transactions via PayPal and can ship internationally to any country across the globe. You, however, will pay for shipping before your items are shipped.
Website: http://www.matsenminiaturefarms.com
Email: matsend97@aol.com
Phone: 515-231-3177
Address: Matsen Miniature Farms, Dale and Pat Matsen, 321 West Maple Street, Roland, Iowa 50236-1007
7 Mark's Farm Toys
This is a decent store founded in 2010. Mark Farm Toys was established with the aim of providing 1/64 diecast farm toys, playsets, tractors, and accessories to customers.
It is a customer-focused store that seeks to satisfy both local and foreign customers. The store management advises that international customers contact them first before placing an order. This is to enable them to work out the shipping fee and process the order outside the website. Orders are delivered via UPS.
They have well-structured shipping rates that reduce as orders increase.
Website: https://www.marksfarmtoys.com
Email: marksfarmtoys@gmail.com
Phone: 712-540-1259
Address: Mark's Farm Toys, 811 E. Frontage Rd., Moville, IA 51039
8 Midwest Toys of Iowa
Midwest Toys is a family-owned business and a division of N & A Manufacturing. The store started as a hobby and later developed into a small business that has been providing farm toys to customers.
They stock their store and provide different types of farm toys including new releases and inventory of hard to find toys.  Midwest Toys offer construction toys, big farm toys, pedal tractors, 1/32 scale, 1/16 scale, and 1/64 scale toys both online and in the store.
Website: http://www.midwesttoysofiowa.net
Email: midwesttoysofia@iowatelecom.net
Phone: 712-425-3512
Address: Midwest Toys of Iowa, 203 Inman Street, Mallard, Iowa 50562
9 Dalton's Farm Toys
Dalton's Farm Toys is one of the online stores that have the largest collection of 1/64 farm toys. They have more than 2,400 1/64 scale farm toys listed on their website alongside their pictures. You can also find other scales like 1/16, 1/32, and 1/43 in their store. In addition, they offer older and out of production products for sale.
It's worth mentioning that some customers have had a not-so-good experience with this store.
Website: https://daltonsfarmtoys.com
Email: mail@daltonsfarmtoys.com
Phone: (641) 521-4715
Address: Dalton's Farm Toys, 924 E 8th St N, Newton, IA 50208
Compare Farm Toys Stores