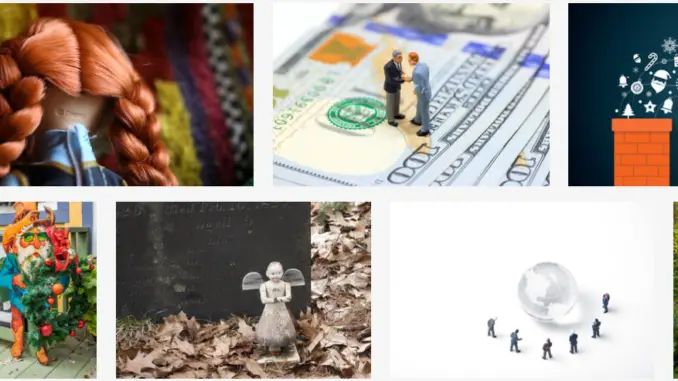 If you're an entrepreneur with an aspiration to venture into the doll section of the toy industry and are looking for reliable doll manufacturers in the USA to either produce or supply you with durable products, then this post is for you.
Every day, smart and innovative entrepreneurs come up with game-changing ideas that have the potential to revolutionize today's society.
However, most of these ideas never leave the drawing board due to a range of factors.
That's why I've painstakingly put together a brief and comprehensive list of manufacturers of made in the USA baby dolls to help you bring your dream to fruition.
Let's begin.
Top 7 Doll Manufacturers in the USA
Read on to unveil the list of best manufacturers of toys made in the USA to strike a deal with.
1. Symbiote Studios
Symbiote Studios is one of China and America's most reliable manufacturers in the toy industry.
Their products are made majorly of PVC or Vinyl, which are both the softest and most durable materials used in manufacturing products like rubber ducks, action figures, and dolls.
They produce a range of products including dolls, teddy bears (plush toys), and action figures. Plus, their delivery time is relatively punctual – usually within 16 to 26 weeks – depending on the complexity of the project.
The biggest advantage Symbiote Studios provides to its customers is that there is no limit to the number of units that they can manufacture for you. Although their minimum run size is 2,000 units for plastic toys, this isn't a problem if you believe your product will certainly revolutionize the market.
Website: https://www.symbiotestudios.com
Related: 10 Best Plastic Toy Manufacturers in the USA
2. Mattel
If you're not looking for a company to manufacture your dolls, but rather a company to supply you with a ton of already made products, I suggest you look no further than Mattel.
Mattel is one of America's largest plastic toy manufacturers. It is behind the success of major companies like Barbie, UNO, Masters of the Universe, American Girl, Thomas and Friends, Polly Pocket, Hot-wheels, and many more.
Ever since they were founded in New York, Mattel has gradually influenced the toy market and has rivaled manufacturing companies like Nintendo and Lego.
If you grew up in the USA and were a toy lover as a child, there's a high possibility that you once played with one of Mattel's toys.
3. Hasbro
Hasbro is another leading manufacturer of plastic toys in the United States.
Their excellent product development skills have been the secret behind products from companies like Marvel, Power Rangers, Star Wars, Baby Alive, Chomp Squad, Disney Princess, Monopoly, Dream Works, and others.
You can find a vast number of dolls available on their platform too, especially Disney-themed products like Beauty and the Beast, Cinderella, Princess and the Frog, Frozen, and tons more.
Their inventory also includes doll dresses and accessories, in case you're interested in adding some variety to your store.
4. The Alexander Doll Company
The Alexander Doll Company is a New York-based manufacturer of both baby and collectible dolls. It was founded in 1923 by Beatrice Alexander and has maintained a steady reputation as a reliable manufacturer and wholesaler of durable toys.
What made this company triumph despite the heavy competition was that they made their dolls look directly alike to famous personalities and characters from real life, books, movies, music, and art.
Among some of their notable creations were dolls looking highly identical to the Dionne quintuplets, Scarlett O'Hara, and the royal family and attendees at the 1953 coronation of Queen Elizabeth II.
The company is indeed reputable and, as of 2016, has produced over 1 million dolls for both medium and large scale businesses.
They currently have over 6,500 different doll styles available for sale.
Website: https://madamealexander.com
Related: Top 6 Wooden Toys Manufacturers in the USA
5. Bestever USA Inc
Bestever Inc is considered to be one of the best makers of dolls and plushes in the USA.
Their dolls are made with the finest quality materials and are guaranteed to be safe for kids even if they put them in their mouths.
The company's quality craftsmanship, attention to detail, and ability to fulfill an unlimited number of orders explains why it has rapidly grown to become an industry leader in the toy manufacturing business.
One advantage that Bestever USA Inc offers to its customers is the ability to customize their items and still retain the same level of quality.
Website: http://www.besteverinc.com
6. Make My Toys
Make My Toy is another company quite similar to Symbiote Studios; they produce custom-made plush and plastic toys for clients worldwide.
Their product requests often come from private individuals, non-profits, start-up businesses, and some major corporations.
Just give them a detailed description of your desired product then tell them "make toys for me" or "make my toy" and they obey.
This reputable manufacturer has had toys made for clients around the world including individuals, organizations, start-up businesses, and corporations.
Every toy is beautifully custom-crafted to a customer's specification and design.
Just like Symbiote Studios, their orders have no maximum limit. So, whether you're planning on producing 500 or 500,000 units, they are sure to fulfill your request.

Website: www.makemytoy.com
7. Silke
Finally, last on the list is Silke; an associate brand of Kosen USA, Inc.
This company has been in the doll industry for more than 90 years and has gained fame for its innovative design, which involves simple shapes and brightly colored dolls.
They're mostly made with durable materials and can withstand impact from children of all ages and sizes.
Over the years, the Silke brand has received numerous awards from independent toy evaluators especially from the "Creative Child Magazine".
Final Words
This era is a great time to be a doll supplier, not only because there are more durable products on the market, but also because the number of manufacturers has more than doubled.
This increase in number is an excellent opportunity because it gives the supplier a wide range of options to choose from.
Nevertheless, the manufacturers listed in this post are some of the best in the USA. Feel free to go through their websites for more information.
You're sure to receive a positive response from them whether you're a private individual, business, or large corporation.
Compare Toy Manufacturers