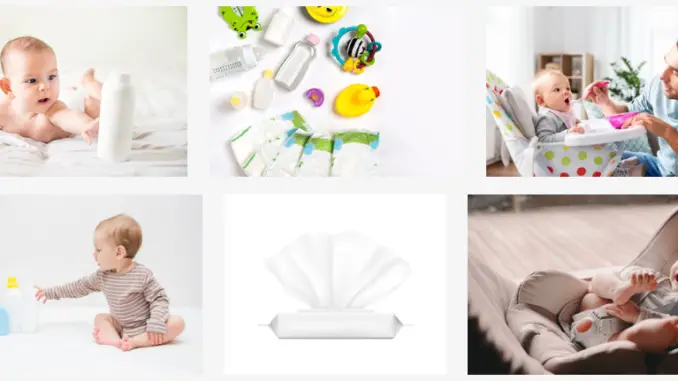 Statistics by Grand View Research has revealed that as of 2017, the global baby products market was worth USD 10.91 billion. And this value is expected to increase over the years.
In other words, if you're planning to start a new business of baby products in the United States or are already in the business, then congratulations! You've struck a goldmine.
To help you in your quest for industry domination, I've taken the time to scout the internet for information about the most reputable baby product manufacturers in the USA.
My findings are all laid out here in this list and I'm giving it to you for free.
You're welcome!
Top 6 Companies that Make Baby Products in the USA
These companies are also the best wholesale baby products suppliers in the USA.
1. Graco
Operated by Newell Brands, Graco is an American baby products manufacturing company that is based in High Point, North Carolina and has been in operation for almost 80 years.
They began their dominance in 1998 after they acquired Century, and went on to produce the SnugRide infant seat. This wonder product became one of America's top-selling car seats for infants.
There's no doubt that Graco has created a plethora of amazing products for babies including the turbo booster seat and the Nautilus 3-in-1 car offers.
Their current product line features a range of categories including car seats, strollers, baby swings, play yards, high chairs, and travel systems.
They're the goto company if you ever plan on dealing with baby seats, strollers, or the likes.
Website: http://www.gracobaby.com
Related: Top 6 Wooden Toys Manufacturers in the USA
2. Pampers
If you're currently 50 years old or less, there's a pretty good chance that your parents used pampers on you (or your younger ones) while you were still growing up.
Back in the times before the mid-1960s, diapers used on infants and growing children were often extremely bulky, heavily composed of excess fluff and puff, with a weak polyethylene back sheet and a rayon top sheet.

They were very difficult to wrap and undo until pampers came and changed everything.
In 1966, Pampers revolutionized the diaper by introducing a 'wing fold' design which was instantly accepted by Mothers nationwide. And by 1969, after it launched a "third size", the company had grown to become a national brand in the United States.
Currently, Pampers offers majorly with three core baby products: diapers, baby wipes, and training pants. The products come in a range of varieties such as nine different diaper sizes, three different types of diaper wipes, and four types of training pants.
Website: http://www.pampers.com
3. The Walt Disney Company
Up next on the list is Walt Disney, the multi-billion dollar entertainment company that is responsible for almost all the fun memories you probably had as a kid.
Disney was founded by Walt Disney and his brother, Roy O. Disney, on the 16th of  October 1923. It gradually made its way in the entertainment industry until it broke through the market in 1986 thanks to the help of Disney's original character "Mickey Mouse".
Since then, it has successfully established itself as a leader in America's entertainment and animation industry by also diversifying into other sectors such as live-action films, theme parks, and television.
One of Disney's significant impact in the lives of children besides Disney land and its captivating TV shows is the action figures and life-like collectibles available to children around the world.
The ability of children becoming Mickey mouse or their own prince charming in their imagination gave Disney a soft spot in their hearts and a solid reputation in the toy industry.
I recommend that you include some of their figurines, action figures, and toys to your collection if you intend to have a toy category in your store.
Website: https://thewaltdisneycompany.com
Related: 10 Best Plastic Toy Manufacturers in the USA
4. Baby Einstein
Baby Einstein is another noteworthy company that delights in the laughter and happiness of children.
Founded since 1996, the company gained popularity airing exciting children's videos of babies and toddlers less than four years old undergoing simple everyday tasks like playing with familiar objects, watching puppet shows, and having fun with toys with an upbeat tune in the background.
After they got acquired by kids II Inc, their productions grew in diversity until they began creating their line of toy and baby gears for infants and toddlers.
Their products and services were so good that the founder received the "Entrepreneur of the Year" award and also got invited to the State of the Union address in 2007 by President George W. Bush.
Baby Einstein still produces interactive children's videos as well as a line of baby toys, gears, and books.
Website: http://www.babyeinstein.com
5. Gerber Products Company
If you're planning on selling baby consumables, then you should opt for the Gerber Products Company.
Gerber Products was founded in the late 1920s and is a popular household name majorly associated with baby food. After having almost a century of consistent service, the company was eventually acquired by the beverage giant "Nestlé" for $5.5 billion in 2007.
The brand, which is currently a giant in the baby food industry, now offers over 190 products in 80 countries and controls 61% of the edible baby products in the United States.
Some of their most popular products include pacifiers, small baby toys, breastfeeding supplies (such as the manual massaging breast pump), baby bottles and nipples.
They also offer a few health products like vitamin pumps and cleansers for both tooth and gum.
Website: http://www.gerber.com
6. Johnson & Johnson
Johnson & Johnson is a well-known manufacturer with some of the best baby care products in the industry.
Founded in 1986, this brand has delivered consistent service for over a century. It is one of the world's leading producers of baby and mother care products usually dominating the baby hair and skincare category.
The company has an imposing line of baby bath products such as soap, baby shampoo, hair oil, and baby wash. It also includes a range of baby skincare products like moisturizers, diaper rash creams, face creams, lotion, massage oils, and a few others.
Parents adore using their products because whether made for infants, toddlers, children, or adults, they always have one thing to offer the entire family.
Website: http://www.johnsonsbaby.com
Conclusion
So, that's a wrap. I kept the list as short as possible but didn't fail to have it packed with some of America's most respected and influential manufacturers of baby products.
Feel free to visit their websites to learn more about their products, prices, and any other relevant factor to help you to get your business rolling as soon as possible.
I hope this list was helpful.
Compare Toy Manufacturers