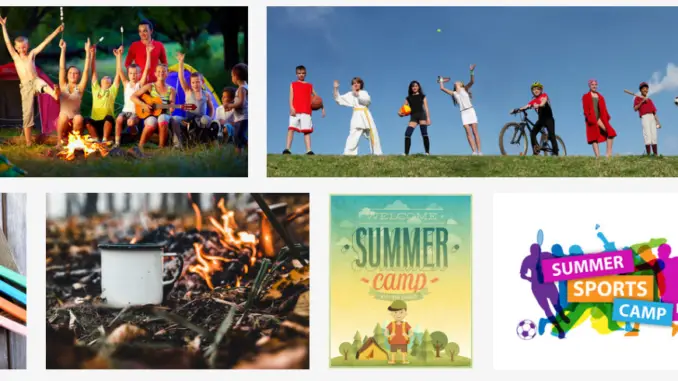 The joy of summer camp usually goes beyond the thrill experienced from mountain climbing, biking, swimming, living in a cabin, and campfire stories.
It's the perfect place for your little one to experience the great outdoors and also learn new soft skills such as character building, leadership, team building, self-confidence, and a few other essential skills.
Although the idea sounds fun and all, you can't just sign up your kid for any camp and expect it to be perfect for them – there are a few factors you need to consider first.
The factors include the type of camp, whether it's government approved or not, the location, their activities, and especially the age range.
To make things easier for you, I've compiled a list of some of the best summer camps to take your 5-year-old plus all the necessary information you might need about them.
You can thank me later.
Let's begin!
Top 8 Summer Camps for 5 Year Olds
The following are the best camps to consider.
1. The US Sports Institute
First on the list is the US Sports Institute; a government-approved organization that has provided sports camps and year-round sports programs to dozens of communities since 2000.
In order to ensure that they deliver the best possible experience in each sports camp, they teamed up with over 500 organizations in the USA. This includes Recreation Departments, YMCA's, JCC's, Girl Scouts, School Districts, and a few other private organizations.
What really makes the USSI camp worthwhile is that they are equipped with enough materials to accommodate your child no matter the sport he enjoys.
They also have an abundance of sports programs for kids of different ages whether 2 or 14. And the good part is that programs are offered year-round.
Whether it's summer, spring, fall, or winter, there's always a camp ready for your kid.
Website: http://ussportsinstitute.com
Related: Most Expensive Diecast Cars Ever
2. kiddie Academy
Up next is Kiddie Academy; a camp with programs that will transform your child's ordinary summer into one that he'll live to remember.
Their programs usually include the Life Essential curriculum which helps to reinforce lessons learned during the school year and also nurture your child's development and ability to connect to the world around them.
Although they might seem like an organization that does indoor camps only, their activities include field trips and themed events that help to build your child's imagination.
And as for toddlers, the teachers at the camp use toys, fingerplays, songs, movement activities, and children literature to teach them new skills and enrich their summer camp experience.
What I personally like about these guys is that they go the extra mile to provide quality customer service.
They train their staff every year, notify you when the kids are going on a field trip or if your child gets sick, and have a special guest like a celebrity.
It's the ultimate kiddie paradise with a touch of love.
Website: http://kiddieacademy.com
3. International Montessori School
International Montessori School is an English-based summer camp with weekly activities and engaging themes that are open to children from 10 months to 2 years and upcoming first graders.
Some of their programs/activities include:
1.  "Nature Exploration" ( discussions about taking care of the environment + a little gardening).
2. "The First Americans" (learning about how the first tribes used their surroundings to meet their needs before technology + some singing, stories, and games),
3."Science Exploration Camp" (hands-on science and nature experiments like erupting volcanoes, making slime and ice cream, using the telescope, and so on).
IMS was smart enough to notice that children feel more confident with routines, so they structured their day in a way to boost your child's enjoyment.
Each day includes a healthy snack to boost children's fun in the morning, followed by a few groups and individual activities (depending on the program), then 35 minutes of free play on the safe playground.
If you're scared of your young one being overwhelmed by activities, don't worry. They've reserved a few minutes of nap time for them after lunch.
Website: https://www.imsnc.org
4. Little Scholars
Founded in 2006 by Stephanie Jefferson, Little Scholars has helped young children – especially kindergartens – to improve their fine motor skills and prepare them for the classroom.
They eventually took their services a few steps further and now provide in-home and in-school tutoring, occupational therapy, enrichment programs, assessments, kindergarten readiness evaluations in schools, and summer camps across the country.
Their summer camp programs are perfectly tailored to suit children in preschool, elementary, and middle schools with big imaginations and desire to explore.
Some of their activities for kids between 4 and 11 include:
1. Creative Journaling (perfect the art of writing while creating a unique journal)
2. Design The Runway (create a fashion portfolio with recyclable products)
3. Future-preneurs (experience the thrill of creating a company)
4. Mystical Creature Adventures (explore ancient mythical creatures and broaden the creative mind)
Website: https://www.littlescholarsllc.com
5. LAE Kids
LAE Kids is a beautiful Spanish academy accredited by the Instituto Cervantes and was founded by Natasha Mason to help young kids learn Spanish in a fun and friendly environment.
Each day in LAE Kids has a different theme like animals, art, technology, sports, dance, food and cooking. These themes are specially designed to weave in the Spanish vocabulary while the kids have fun with the activity.
This method has proved to be effective at keeping the kids engaged and focused.
During the fun-filled camp, the kids will be paired into groups to work together on key developmental skills and Spanish fluidity and to learn more about the Spanish culture.
They'll usually spend most of their days painting, cooking, dancing and getting their hands dirty, while learning Spanish at the same time.
Website: https://laekids.com
6. Outpost Summer Camps
Outpost Summer Camps is the ultimate camp for kids above 3-year-olds. For over 34 years, they've provided group-centered outdoor-based traditional camp experiences for both children and young adults.
Their preschoolers camp is carefully designed to enrich and develop the social, emotional, and physical skills of your child.
Each day in the preschoolers camp is paced appropriately by skilled staff who ensure that activities alternate between very active and quietly passive.
The little campers are also paired in small groups of the same age and are taken along to do a few interactive activities including free play, design structures, try new and silly things outdoors, and develop skills like collaboration, creativity, initiative, leadership, and responsibility.
It's the perfect place for your kids to create everlasting memories!
Website: https://outpostsummercamps.com
Related: Best Places to Sell Diecast Cars
7. Altitude
Altitude is a residential camp in Switzerland for children of ages 3 to 14. It provides them with the ultimate camping experience that can best be described as "a home away from home".
Their camp features a lot of activities including daily outdoor adventures plus optional French or English language lessons to help build lasting friendships with kids from different nationalities.
You can choose between a residential camp or a day camp option, where kids will have the liberty of engaging in a morning language lesson or head out with trained staff members to explore the nearby mountains.
Kids engage in morning Marmot sessions to play sports, do creative activities, make new friends, and go on excursions for inspiration or excitement.
Website: https://www.altitude-camps.com
8. Barracudas
Finally, we have Barracudas; an English company founded in 1992 and offers the ultimate fun and learning experience in their Easter and summer camps for children between the ages of  4 and 14.
At Barracudas, your child will be given full liberty to use every aspect of the camp's facilities, buildings, and sports hall.  They'll also be given a special "base room" where they can make new friends with their group and participate in individual activities before the main event of the day begins.
It's also worth mentioning that Barracudas has been rated "Outstanding" by Ofsted – many times – over a bunch of other competitors. It owes its 5 star Trustpilot rating to a sincere and consistent commitment to serving parents and children.
Now with approximately 47 summer camps and 35 Easter camps, Barracudas has successfully grown to be one of the top camps in London and is showing no signs of stopping since its 27 years of service.
Website: https://www.barracudas.co.uk
Wrap Up
The camps above are some of the best places to take your kids for a life-changing summer camp. I've also included a link to the organizations/companies that run the campsites, just in case you're in need of some extra information.
You're welcome.
Check these out…